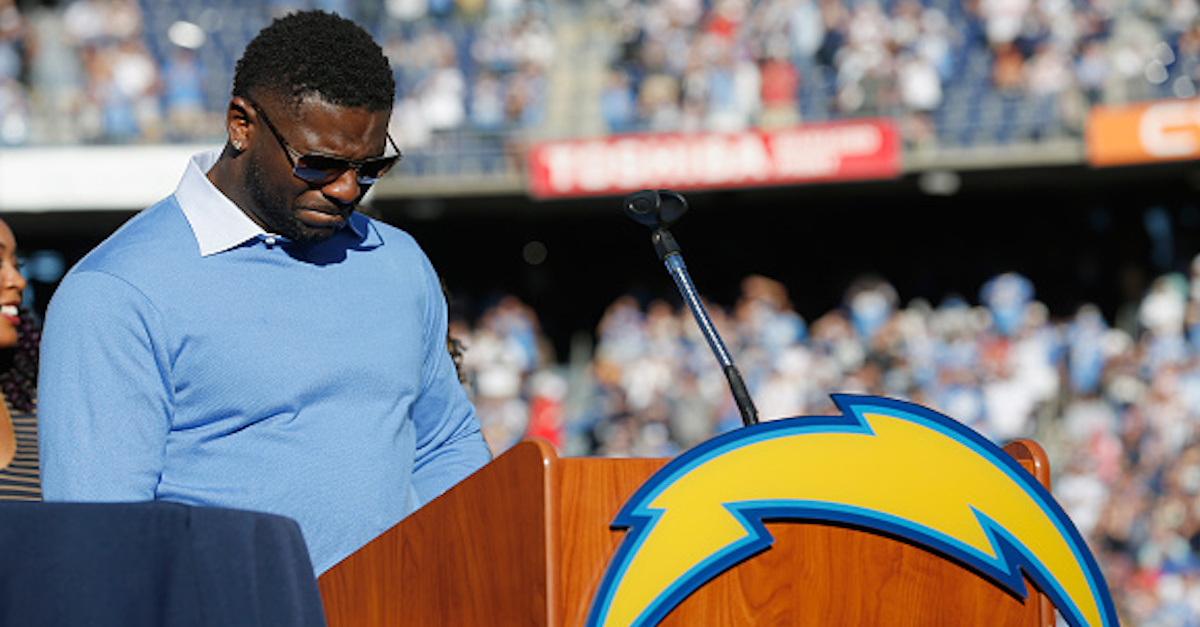 Sean M. Haffey/Getty Images
SAN DIEGO, CA - NOVEMBER 22: Former NFL Player LaDanian Tomlinson has his number retired by the San Diego Chargers during halftime at the game against the Kansas City Chiefs at Qualcomm Stadium on November 22, 2015 in San Diego, California. (Photo by Sean M. Haffey/Getty Images)
New Chargers coach Anthony Lynn is putting two of his star players in a very sticky situation, and it's very possible that they won't be able to attend the Hall of Fame induction for a franchise legend as a result.
Alex Marvez of SportingNews is reporting that Lynn is blocking quarterback Philip Rivers and tight end Antonio Gates from attending LaDainian Tomlinson's NFL Hall of Fame induction this Saturday. The ceremony coincides with the Chargers' first day of training camp at the StubHub Center and apparently, Lynn feels it's more important for two of his star players to be there than in Canton, Ohio.
Marvez is reporting that Gates is thinking about defying his coach and taking the fine that comes along with that decision. He also relayed that this is a move by Lynn that's pretty unconventional.
"It's common for coaches to give active players who are close with a Hall of Fame inductee the chance to attend the ceremony. One example is Arizona wide receiver Larry Fitzgerald, who was given permission to miss Cardinals practice this weekend so he can see Kurt Warner's induction in person."
Lynn had something different to say on Monday after practice, denying he had blocked anyone from attending, via ESPN:
"I've talked to Philip," Lynn said. "I've talked to Antonio. I've even talked to LT. We're all on the same page. At the end of the day, we're going to make the best decision for our football team and that's it."
Especially when considering what Tomlinson has meant to the Chargers' organization, it's pretty surprising to see that Lynn is taking a hard-line stance with this. After all, it's only the first day of training camp, and though this may sound a bit entitled, will Gates or Rivers be any less effective in 2017 because they miss this practice?
Perhaps the better question is whether or not the team will suffer in 2017 because Rivers and Gates miss the first date of training camp, and the answer to that question is a resounding no. It's likely that none of their teammates will see anything wrong with them missing the practice due to the situation — this is LT we're talking about, after all — and it's not like the two star players won't be able to come back and start meshing with the rest of the offense right away.
This is simply just a case of a new head coach trying to establish himself as the authority with his team. Unfortunately, his doing so could alienate two of his best players, and that's not even considering the fans that may be turned off by this decision.