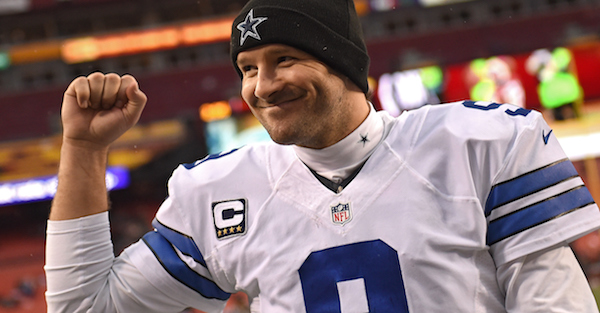 Patrick Smith/Getty Images
LANDOVER, MD - DECEMBER 28: Quarterback Tony Romo #9 of the Dallas Cowboys acknowledges the crowd after defeating the Washington Redskins at FedExField on December 28, 2014 in Landover, Maryland. The Dallas Cowboys won, 44-17. (Photo by Patrick Smith/Getty Images)
Brock Osweiler will have more competition going into next season — but it doesn't look like it'll be from Tony Romo.
Houston Texans owner Bob McNair told the Houston Chronicle that the team needs "better performance out of the (quarterback) position." He noted that Osweiler, his $72 million bust, will compete with Tom Savage for the starting job, and the Texans will look to bring in a young quarterback in the draft.
RELATED: Brock Osweiler got paid a lot of money to rise the bench.
No mention of Romo, which is interesting since Houston was one of the teams mentioned as a possible landing spot. Romo seems to have eyes for Denver Broncos anyway.
Moving on from Osweiler makes perfect sense — even if it will be expensive. He was one of the leagues worst quarterbacks last season, and his 72.2 QBR was second worst in the league, ahead of only Ryan Fitzpatrick. Osweiler was benched last season in favor of Savage, who makes, literally, one percent of his salary (Savage makes $300K).
Still, because of the way Houston structured Osweiler's contract, the team can cut him after the 2017 season and take a $6 million hit in 2018 and $3 million in 2019, based on numbers by overthecap.com.)