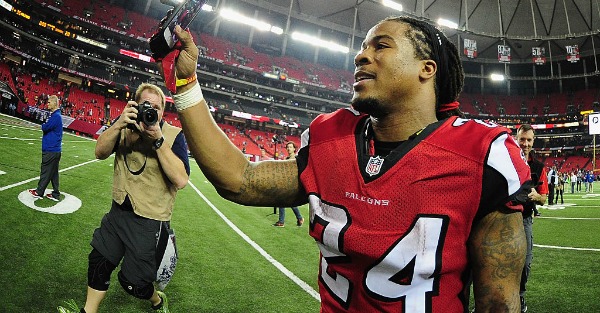 Scott Cunningham/Getty Images
at the Georgia Dome on January 14, 2017 in Atlanta, Georgia.
You knew it wouldn't be long before an Atlanta Falcons player said something that might be taken as a slight by the Patriots.
Although it's questionable whether Falcons running back Devonta Freeman was trying to rouse a sleeping giant with his most recent comments, he probably did.
"We can do whatever we want," Freeman said last week. "Pick your poison. We've had the game plan. The game plan doesn't change."
He does have a point. Freeman and Tevin Coleman make up a running back tandem that's been far and away the NFL's most dynamic this season, averaging 171 yards from scrimmage per outing and posting 27 total touchdowns. And both possess the kind of route-running and pass-catching skills that could give any opponent fits.
RELATED: Two star players from same team reportedly considering retirment
And if you somehow manage to keep those two bottled up, there's also one of the league's very best quarterback-receiver combos to worry about in Matt Ryan and Julio Jones. On paper, we've got a dream matchup: the NFL's best offense versus its best defense.
Now if Freeman could just keep quiet for another week and not provide New England with any extra incentive, we might actually get to see a fairly even contest.