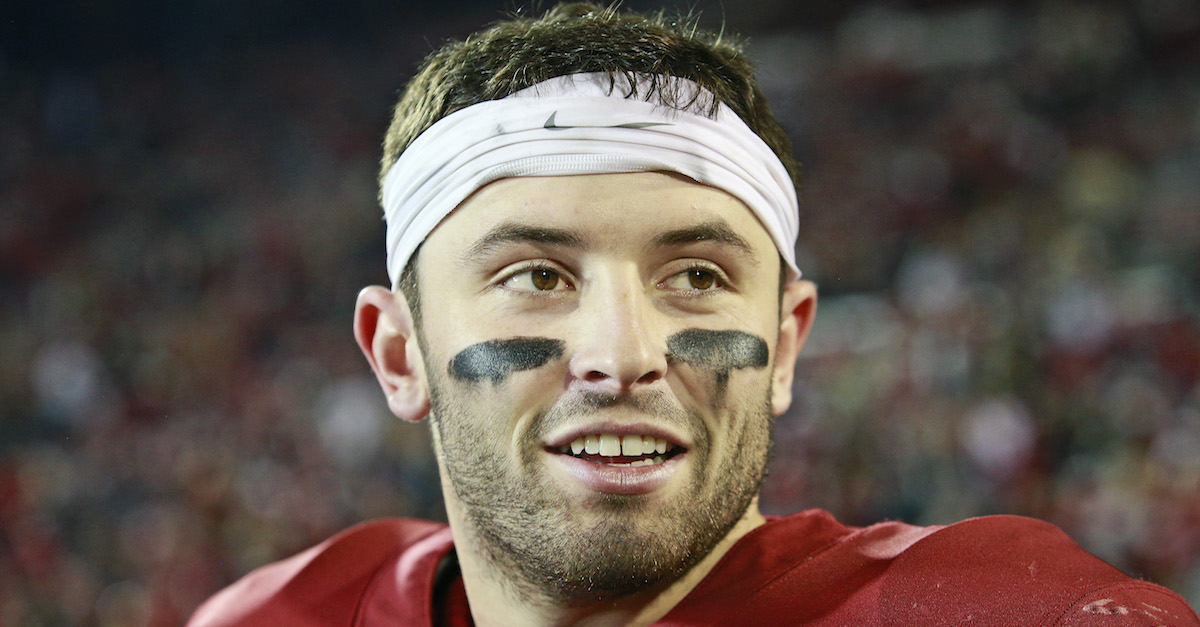 Brett Deering/Getty Images
NORMAN, OK - NOVEMBER 11: Quarterback Baker Mayfield #6 of the Oklahoma Sooners after the game against the TCU Horned Frogs at Gaylord Family Oklahoma Memorial Stadium on November 11, 2017 in Norman, Oklahoma. Oklahoma defeated TCU 38-20. (Photo by Brett Deering/Getty Images)
Baker Mayfield doesn't seem to have any interest in being drafted by the Chicago Bears.
In a piece chronicling the Heisman Trophy winner's road to the draft for Sports Illustrated, Robert Klemko details a scenario at the Renaissance Hotel this week in which he witnessed Mayfield scoff at the idea of meeting with the Bears, who already drafted a quarterback, Mitch Trubisky, in the first-round in last year's draft.
"You know I've got to get you for 15 minutes, Baker," the scout tells him.

"Yeah, we'll see. I've got a bunch more meetings tonight," Mayfield replies.

It goes on like that, with the scout pressing on and Mayfield apologetically leaning away, reluctant to commit to a 15-minute interview with a scout whose team drafted a quarterback second overall just nine months ago. Then something clicks in Mayfield's brain, like the latch catching on a closing door.

"You guys just drafted Mitchell Trubisky," Mayfield says, "so what do you want with me?"
Granted, it's hardly ideal for Mayfield to be drafted by a team that is still figuring out whether another young quarterback is a franchise player. But it's still part of the draft process to meet with inquiring teams and sets a bad precedent for a player who has already gotten plenty of negative attention throughout his college career.
Mayfield did, however, have extensive meetings with the New Orleans Saints, Buffalo Bills, New York Jets and Miami Dolphins and noted that his reason for participating was to make a good impression, according to Klemko.
"That's the only upside for me [being here]," Mayfield says of the meetings with teams, via Klemko. "I'm confident I can show exactly what I'm about, how much I care about football and how I'd do anything to win. And not just that. Put me on a board and let me show you how much I know about the game. Let me show that I can pick information up, take it and run with it. Getting in front of these people was so important, even bigger than the three years of film I put together."
Hopefully for Mayfield, his willingness to meet with other teams will overshadow his scoffing of the Bears and improve his tainted image prior to the draft.