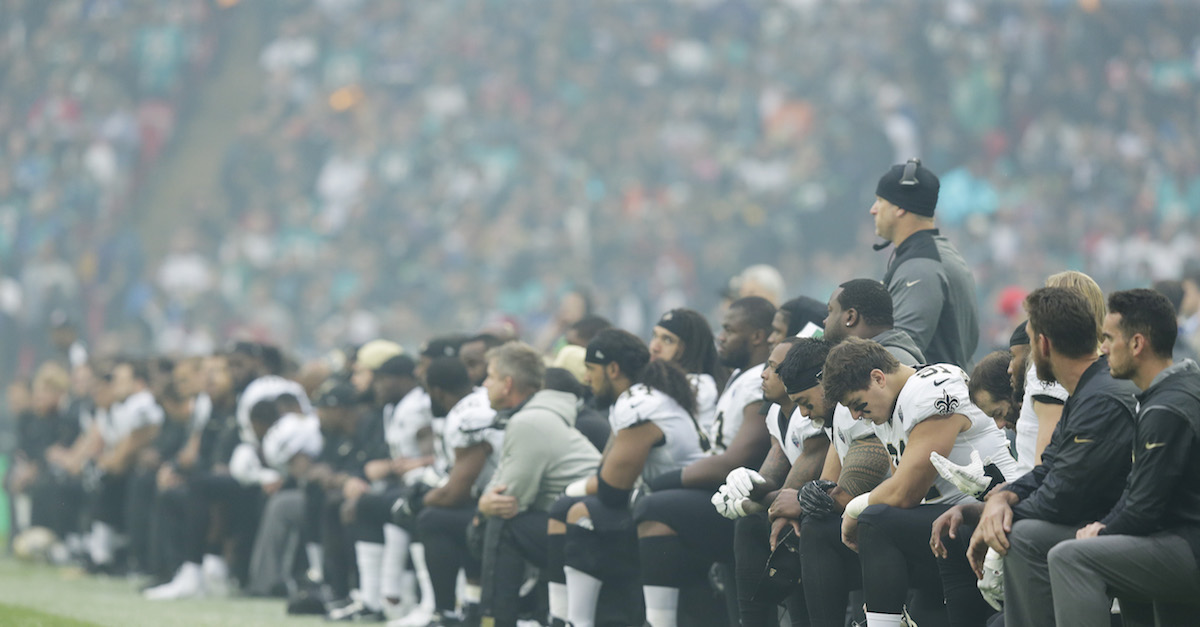 Henry Browne/Getty Images
LONDON, ENGLAND - OCTOBER 01: The New Orleans Saints players kneel before the anthem is played at the NFL game between the Miami Dolphins and the New Orleans Saints at Wembley Stadium on October 1, 2017 in London, England. (Photo by Henry Browne/Getty Images)
For much of the 2017 season, the Baltimore Ravens were difficult to watch. The team put forth a strong defensive effort on most weeks but, on the other side of the ball, Joe Flacco and company struggled to produce traction on a consistent basis. Still, John Harbaugh's team is in decent position when it comes to the playoffs after winning three of the past four games and things appear to be looking up in Baltimore.
With that said, Jamison Hensley of ESPN uncovered a letter issued by the organization (and signed by team president Dick Cass) this week and, within its contents, the seems to blame some attendance issues and no-shows on the decision from some players to kneel for the national anthem.
"The numbers [of no-shows] are higher, and it is noticeable. There are a number of reasons for the no-shows, but surely the one-time protest in London has been a factor."
This is in reference to the game on Sept. 24 in London, when several players took a knee in conjunction with many others across the NFL.
Of course, the notion of NFL fans turning the league off as a result of this action has been trotted out by many in the media industry but it is an entirely different angle for a team directly to suggest that as a reason for declines in attendance. It would be interesting to see if there is data to back up this claim but, in short, there will be some attention on this revelation in the coming days by many parties.