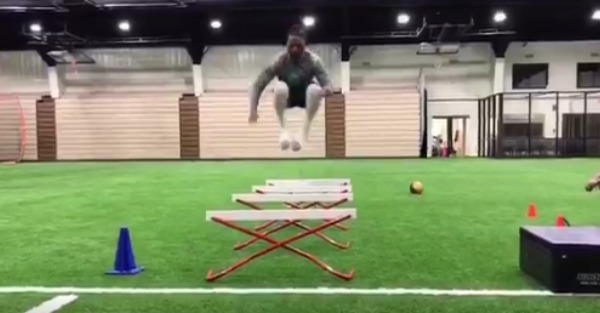 Twitter via Jaylon Smith
The Dallas Cowboys took a real risk when they drafted linebacker Jaylon Smith in 2016.
The Notre Dame star suffered a brutal knee injury against Ohio State in the Fiesta Bowl, tearing his ACL and MCL, and suffering nerve damage. Teams were scared off by his injury ? some thought he might never play again — and the former consensus All-American (2015) and sure-fire top five pick in the draft fell.
RELATED: Updates on Jaylon Smith could mean big things for the Cowboys
The Cowboys took a huge risk by drafting Smith in the second round, No. 34 overall, and from the looks of the video, that gamble is about to pay off big time.
Dallas had the sixth-ranked defense in the NFL last year and a healthy Smith will make that unit even better.