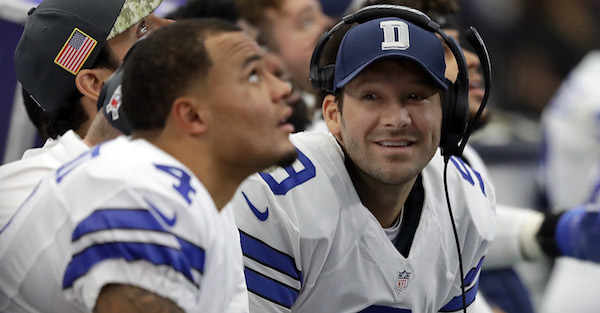 Ronald Martinez/Getty Images)
ARLINGTON, TX - NOVEMBER 20: Tony Romo #9 talks with Dak Prescott #4 and Mark Sanchez #3 of the Dallas Cowboys on the bench during the first half of the game against the Baltimore Ravens at AT&T Stadium on November 20, 2016 in Arlington, Texas. (Photo by Ronald Martinez/Getty Images)
Tony Romo is headed to CBS to replace Phil Simms as the No. 1 NFL game analyst for the network and, predictably, there has been a deluge of stories as a result of the move. While Romo's decision throws many things into chaos, the Dallas Cowboys also do not have the benefit of an insurance policy on Dak Prescott or a potential trade chip in the event that Romo would land elsewhere in exchange for compensation.
However, that did not stop Jerry Jones from showing a great deal of class and generosity with one final gesture to Romo and Michael David Smith of Pro Football Talk brings word of it.
"But Romo said on a CBS conference call today that the Cowboys were doing him a different kind of favor by cutting him: Romo said the reason he asked the Cowboys to cut him was so that he wouldn't be obligated to pay back a portion of his signing bonus. If he had retired, the Cowboys could have forced him to pay back $5 million in previously paid bonus money. Romo says Cowboys owner Jerry Jones was doing him a kindness with the roster transaction."
Five million to Jerry Jones isn't $5 million to most people but this is still staggering. Beyond the fact that the Cowboys lose the "asset" in Romo and the money itself, the now-retired quarterback would now be free to return to the NFL and play for another team if he were to change his mind and there is nothing that Dallas could do about it.
It seems very clear at this point that Romo and Jones did not have the typical relationship of a quarterback and owner/general manager, but this is not standard operating procedure and Romo should be quite grateful.