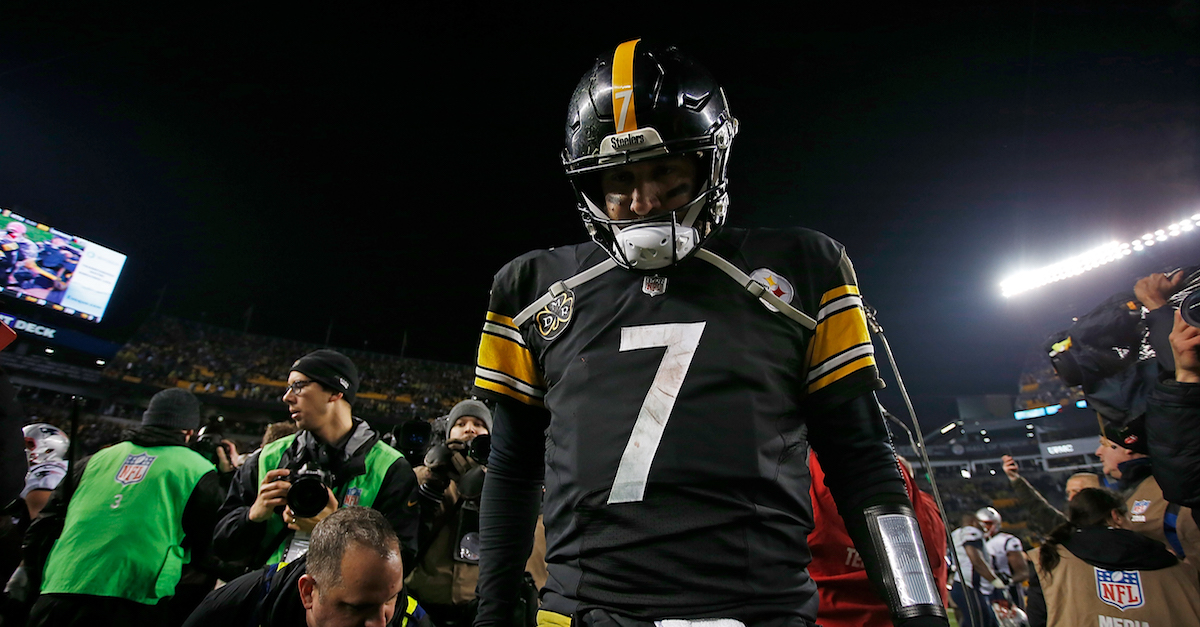 Justin K. Aller/Getty Images
PITTSBURGH, PA - DECEMBER 17: Ben Roethlisberger #7 of the Pittsburgh Steelers walks off the field at the conclusion of the New England Patriots 27-24 win over the Pittsburgh Steelers at Heinz Field on December 17, 2017 in Pittsburgh, Pennsylvania. (Photo by Justin K. Aller/Getty Images)
The New England Patriots shut down Ben Roethlisberger on what appeared to be a trick play on third-and-goal and up three points to defeat the Pittsburgh Steelers, 27-24, in what may very well be the regular-season game of the year.
After the game, Roethlisberger was clear — it wasn't his fault:
The Patriots drove down the field with time running out in the fourth to take the one-point lead and extended it to three with a two-point conversion.
The Steelers took over, completed a 69-yard play to Juju Smith-Schuster and added what appeared to be a touchdown reception to tight end Jesse James.
Officials overturned it, Roethisberger completed a little out route and the clock continued running. With about 12 seconds left, Roethlisberger snapped the ball, faked a spike and looked to the end zone, where he threw an interception to close the game.
The Patriots moved into the No. 1 seed in the AFC with the victory.