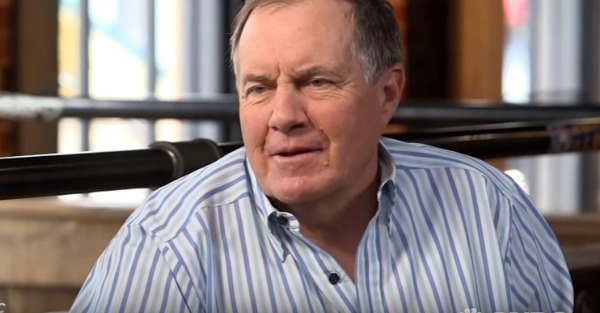 @Patriots/Twitter
Bill Belichick is arguably one of the greatest NFL coaches of all-time and he's certainly the top coach of his era, but apparently, even after all his Super Bowls, people aren't pronunciation his last name the correct way.
This is, at the very least, according to how Belichick pronounces his own last name.
In a recent feature on Belichick's football upbringing, the head coach shocked the world when he mentioned his father: Steven Nicholas Belichick. Notably, the Patriots' head coach pronounced his last name Buh-lecheck:
Listen below for yourself:
Most people in NFL circles and NFL fans seem to lean on the side of "Bell-eh-check" when talking about the New England great. You don't hear it as much, but there are also people who will come out with the "Bell-eh-chick" pronunciation.
"Buh-lecheck", though? That's a completely different world from what most of us have been saying, and if that's really how Belichick says his last name — why hasn't he spoken up in all these years?
Mind you, he's been an NFL head coach since 1991, so he's had plenty of time to correct the record.
With that said, has Belichick — or "Buh-lecheck" — ever given the impression to anybody that he cares whatsoever about the stupid little details of life? He'd probably go through the rest of his life allowing people to call him "Steve Beloochick" if that meant he had the peace and silence in his mind to go win five more Super Bowls. And that's what makes Belichick great. If it doesn't translate to wins in January, it doesn't seem to matter to him.
Call him whatever you want. He'll just keep focusing on winning.
(H/T USA Today)