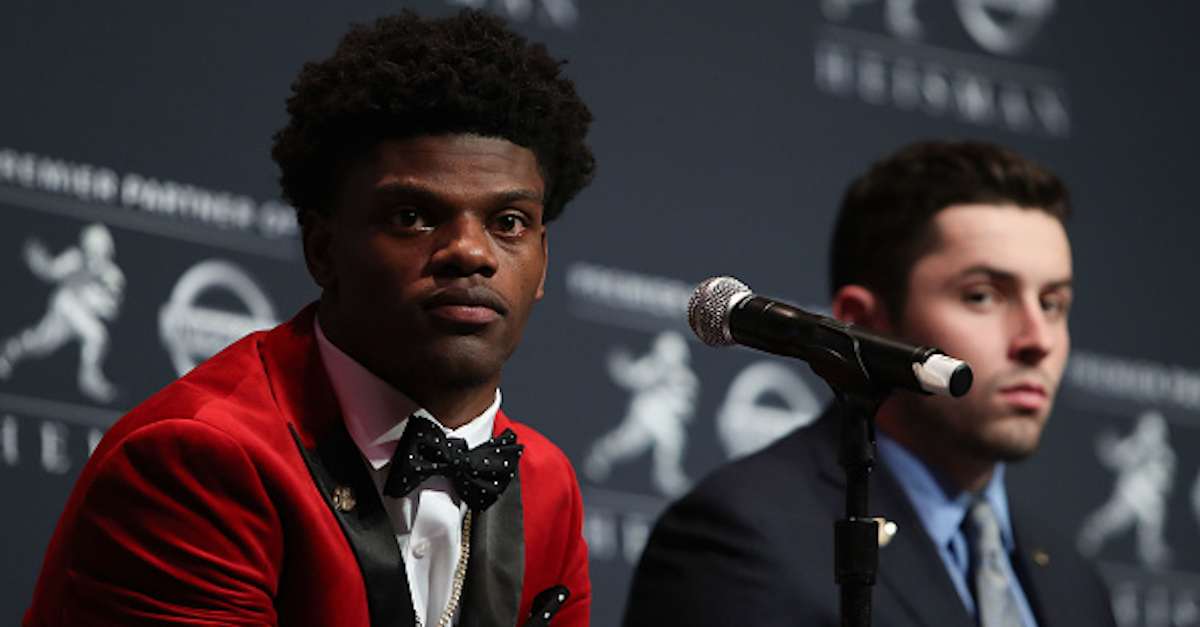 Michael Reaves/Getty Images
NEW YORK, NY - DECEMBER 10: Lamar Jackson of the Louisville Cardinals answers a question during a press conference prior to the 2016 Heisman Trophy Presentation at the Marriott Marquis on December 10, 2016 in New York City. (Photo by Michael Reaves/Getty Images)
Former NFL executive and current ESPN talker Bill Polian said top quarterback prospect Lamar Jackson is better suited as a wide receiver.
Again.
This time it happened on Golic and Wingo.
?I think wide receiver,? Polian said. ?Exceptional athlete. Exceptional ability to make you miss. Exceptional acceleration. Exceptional instinct with the ball in your hand ? and that?s rare for a wide receiver.?

?This guy is incredible in the open field?and again, short, and kind of slight, and clearly not the thrower that the other guys are,? Polian added. ?So I would say, don?t wait to make that change. Don?t wait to be like that kid from Ohio State (Terrelle Pryor) and wait until you?re 29 to make the change.?
On ESPN LA back in September, Polian said nearly the same thing:
?I don?t think that Lamar, the Louisville kid?s in that discussion, in fact there?s a question that he may be, he might be a receiver.? Polian said, as transcribed by The Big Lead.

[loud yelling from the hosts, including ?are you kidding me??]

?No, I?m not kidding you. And that has to do with girth and skill set as well.?
In that ESPN LA spot, Polian also said, despite Drew Brees being physically smaller than Lamar Jackson, that comparing the two?s frames isn?t a good idea. You know, even though he brought up the issue of Jackson?s frame.
Lamar Jackson is 6-foot-3.
It appears Polian had his mind made up about Jackson well before the college football season even really got going since he first made the WR comments back in September, a full college football season happened, and he's still singing the same tune.
Lamar Jackson, a former Heisman Trophy winner, had a higher competition percentage than presumed top pick Josh Allen last season. He also threw for nearly double the amount of yardage, had 11 more touchdown passes and only threw for four more interceptions despite 160 more pass attempts.
But yeah, he's totally a wide receiver, Bill. No code here.