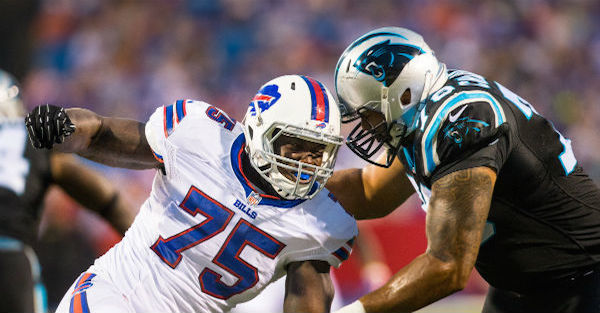 No, this headline is real, I promise. Bills linebacker IK Enemkpali — the same guy who sucker punched Geno Smith in the jaw — missed his college opener in 2011 due to a hand injury he suffered from punching a man he thought was a woman who he arranged to have sex with. Enemkpali was cut by the Jets after the Smith incident and has since been picked up by the Bills.
According to ESPN's Paula Lavigne, Enemkpali needed surgery on his hand afterwards, causing him to miss Louisiana Tech's opener against Southern Mississippi. He had been in even more off the field trouble before that — he was suspended before season began for hitting a sherrif's officer that was off-duty at a bar in Ruston, Louisiana. He was charged with battery of an officer and disturbing the peace for the incident.
As for Enemkpali's altercation with the man he thought were a woman, no charges were filed, and Enemkpali actually complained to police himself after the man demanded money. Per Lavigne, NFL teams knew of the incident when they were scouting Enemkpali, and it even caused one team to not draft him. One team said in their scouting report that the linebacker "puts himself in bad situations."
The police report from the incident stated that Enemkpali starting messaging a recent Facebook friend, a woman named "Missy Lee." Lee told him she would perform oral sex on him if he came over to her house. When he entered the house, he saw a figure covered "head-to-toe in a blanket" (No, I can't believe I'm writing this, either). The report stated that Enemkpali "felt uneasy" about what he walked into and he left.
Don't worry, it gets weirder. Enemkpali went back over to the house after this Lee "woman" called him and convinced him. When he entered the house the second time, the figure refused to remove the blanket or turn on the lights. Enemkpali then told police that a cell phone then rang, which lit up the room "enough to see that the person under the blanket had facial hair," according to the report. Around the same time, another person had entered the room.
The report says that at this point Enemkpali thought he was being "set up" for a robbery, and that he was "fearing for his safety" so he struck the figure in the blanket. After he hit the figure, the voice changed from a woman to a male. Enemkpali shortly thereafter left the residence through a window. I can't imagine how freaked out he would have been in this moment.
The "Missy Lee" character, who turned out to be a man named Ketryn Anderson, began texting Enemkpali in the days that followed with threatening messages along with demands for money. Anderson, who was missing two front teeth from Enemkpali's punch, said he only wanted payment to fix his face.
This whole story is very bizarre and pretty embarrassing for Enemkpali, and it was enough for at least one NFL team to take him off of their draft board. One thing's for certain — Enemkpali has gotten himself into some odd situations.