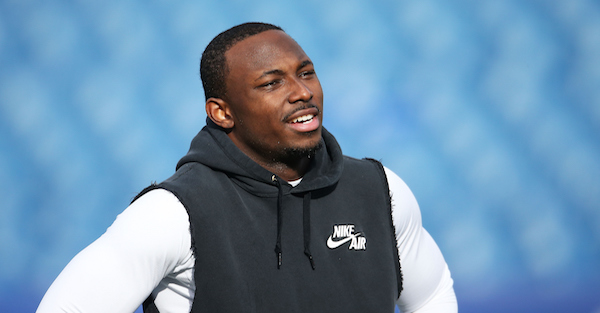 Tom Szczerbowski/Getty Images
ORCHARD PARK, NY - DECEMBER 06: LeSean McCoy #25 of the Buffalo Bills warms up before the game against the Houston Texans at Ralph Wilson Stadium on December 6, 2015 in Orchard Park, New York. (Photo by Tom Szczerbowski/Getty Images)
The Buffalo Bills have been the model of consistency in the NFL in that they're consistently mediocre, and one NFL analyst seems to already be expecting more of the same from the team in 2017.
In fact, Evan Silva of Rotoworld is expecting the Bills to be open to trade talks for two of their best players. He went as far to suggest that Buffalo may not just wait for the calls, either, but instead go out and actively shop running back LeSean McCoy and quarterback Tyrod Taylor.
The "getting 2017 wins not their priority" has to be a big red flag to fans of the Bills. Sure, NFL teams play the long game all the time, but generally, they're not so transparent about it that a reporter has the ability to report something like this before the season even starts.
A fan pointed out that new Buffalo head coach Sean McDermott wouldn't take the Bills' job just to tank it in year one, which led to a conversation about the Bills trading Sammy Watkins, their star receiver, to the Rams.
Radio host Jeremy White also seems to feel that the Bills don't care as much about the on-field results in 2017, which is, again, something fans won't be happy to hear.
Of course, Buffalo will never come out and admit to tanking and this kind of talk is assuming that the Bills do try to trade either McCoy, Taylor, or even both — which at this point is anybody's guess.
If those trades do happen Buffalo will be opening itself up to a ton of scrutiny, especially from its long-suffering fan base. The fact that they haven't happened yet but reporters already feel the organization is forgetting about 2017, is damning enough on its own, though.