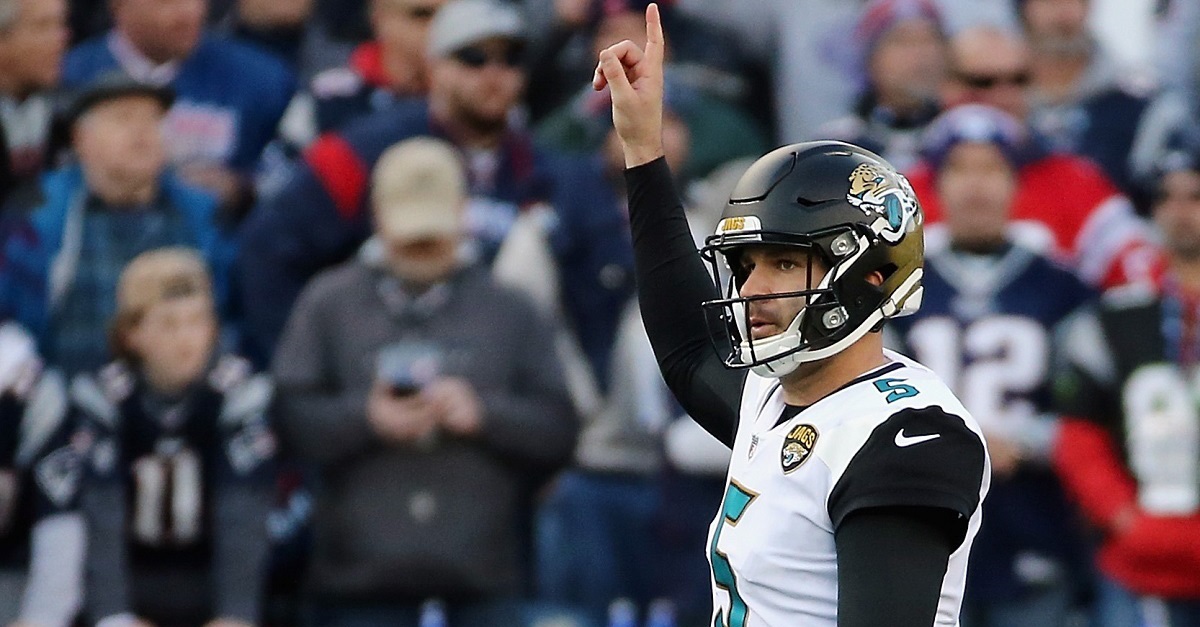 Jim Rogash/Getty Images
FOXBOROUGH, MA - JANUARY 21: Blake Bortles #5 of the Jacksonville Jaguars reacts in the second quarter of the AFC Championship Game against the New England Patriots at Gillette Stadium on January 21, 2018 in Foxborough, Massachusetts. (Photo by Jim Rogash/Getty Images)
As the Jacksonville Jaguars begin their offseason following their loss to the New England Patriots on Sunday, the team has a crucial decision to make regarding quarterback Blake Bortles.
Bortles, the third overall pick in the 2014 draft, has a $19 million option for next season that becomes fully guaranteed if he is still on the roster come March. The Jaguars will not have to pay Bortles if they should cut him by the start of the league year in March. The Jaguars will have a little more than a month to make their decision and it figures to be an interesting one.
Bortles has flashed signs of being a great quarterback at times and has looked inconsistent through other stretches. The team must decide if they want to continue with Bortles as their quarterback or if they want to essentially give up on their former No. 3 overall pick and move on to another option. Many believed that if the Jaguars had more consistent play from the position that they would instantly become a title favorite given their stacked defense and young running back in Leonard Fournette.
While inconsistent at times this season, Bortles had perhaps his best game as a pro against the Patriots on Sunday. He finished by completing 23-of-36 passes for 293 yards with one touchdown and no interceptions. He appeared to be poised during the game against Tom Brady and the Patriots and didn't seem to be affected by the nature of the game.
Bortles turned in arguably his best season to date this year after throwing for 3,687 yards with 21 touchdowns and a career-low 13 interceptions. In addition, he finished with a career-high 60.2- percent completion rate.