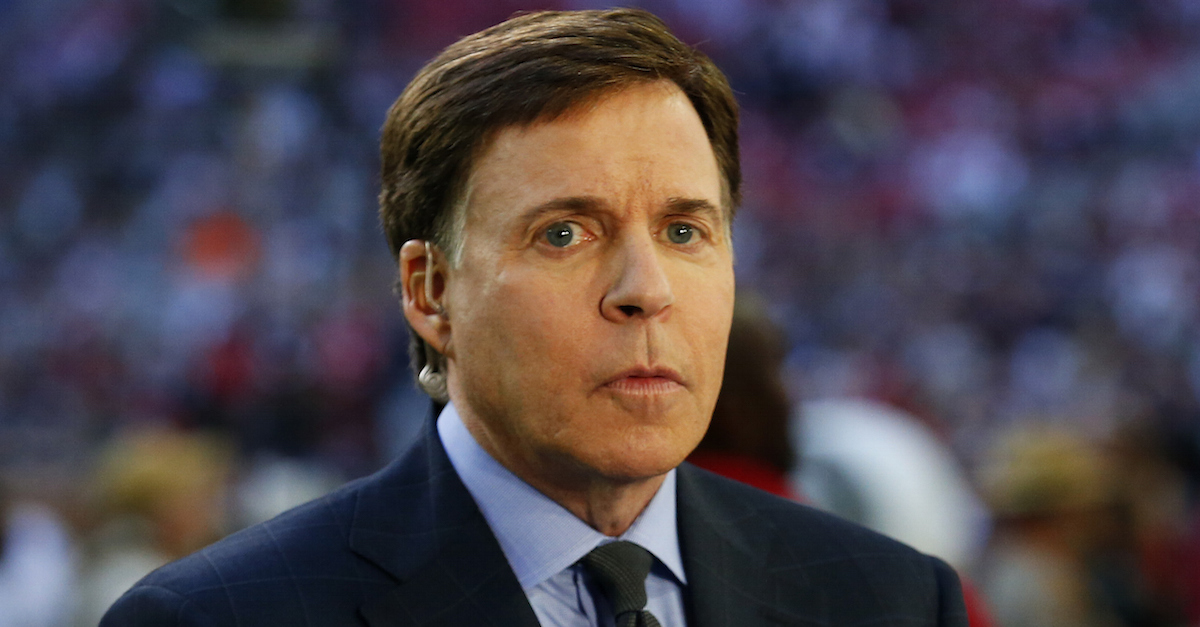 Tom Pennington/Getty Images
GLENDALE, AZ - FEBRUARY 01: Bob Costas is seen on the field prior to Super Bowl XLVIII at University of Phoenix Stadium on February 1, 2015 in Glendale, Arizona. (Photo by Tom Pennington/Getty Images)
With NBC set to broadcast Super Bowl LII on Feb. 4, the brightest lights in the sports media industry will be on the network. After all, the Super Bowl annually produces by far the biggest television rating of any event in the country and, as a result, the network broadcasting the event is under a real microscope that usually pushes the use of the most outstanding on-air talent available.
NBC employs Bob Costas and, while he is not quite as prominent as in his "prime" as a broadcaster, the veteran would certainly be an obvious choice to appear on the telecast at some point along the way. However, John Ourand of Sports Business Daily brings word from Costas that he will not be appearing and, beyond that, the logic behind the decision.
Costas indicated that "the decision was mutually agreeable" and that he is "actually happy about it" as a result of what he terms as "ambivalent feelings about football" connected to the concussion issue plaguing the sport. In addition, Costas expanded with the following thoughts:
?I have been making the same points for several years, often on NBC. In halftime commentaries, interviews with Roger Goodell and other prominent NFL figures, appearances on CNN and elsewhere, I have addressed the issue of football and its undeniable connection to brain trauma many times. Why? Because the evidence is overwhelming and the effects are often devastating. It?s the elephant in the stadium at every game whether others choose to acknowledge it or not. And it?s not going away. So the idea that I am only now finding my voice on this, or that NBC was taken aback by what I said at Maryland is just wrong. It?s all simple and straightforward.?
Given the way Costas clearly seems to feel about football, it definitely makes sense that he would not participate, even as it may look strange from the outside looking in at this juncture. Furthermore, Costas getting in front of this with candid statements also falls into place with a desire to get ahead of any potential eyebrow-raising and NBC will move forward with a cavalcade of on-air voices highlighted by Dan Patrick in the pregame.
For most people, Bob Costas not appearing at the Super Bowl would not have been noticed but, for sports media junkies, the reason for the absence is now plain and clear.