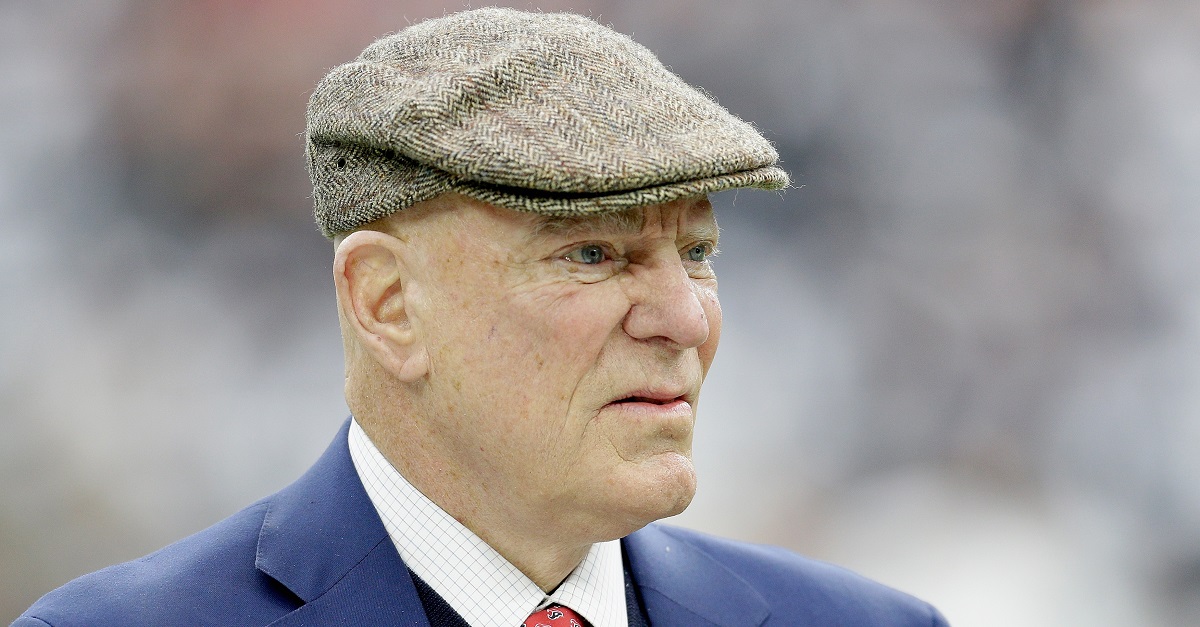 Thomas B. Shea/Getty Images
HOUSTON, TX - JANUARY 07: Houston Texans owner Bob McNair walks on the field before his team plays the Oakland Raiders in the AFC Wild Card game at NRG Stadium on January 7, 2017 in Houston, Texas. (Photo by Thomas B. Shea/Getty Images)
NFL owners met in mid-October and one of the topics on the agenda was whether the league should step in with some kind of mandate involving decorum during the national anthem. While the debate rages as to whether that should have been implemented, Seth Wickersham and Don Van Natta Jr. of ESPN broke down many of the actions in the room and revealed one bombshell from an active NFL owner.
In short, Texans owner Bob McNair was involved and, while many owners operate in an unpopular zone with some comments involved in a (very) interesting piece, this one stands out.
As Jones spoke, [Dan] Snyder mumbled out loud, "See, Jones gets it — 96 percent of Americans are for guys standing," a claim some dismissed as a grand overstatement. [Bob] McNair, a multimillion-dollar Trump campaign contributor, spoke next, echoing many of the same business concerns. "We can't have the inmates running the prison," McNair said.
Yes, that is an NFL owner referencing players as "inmates running the prison." The reaction has already been sweeping to this statement and, even if McNair's intent is not clear, the optics are utterly terrible.
Within the confines of the piece, ESPN notes one unspecified owner as saying "the majority of owners understand this is important to the players and want to be supportive, even if they don't exactly know how to be supportive." With that said, Bob McNair's quote does not seem to fall in line with that and, while context is important, that quote will be standing alone in the minds of many.
Seattle Seahawks tackle Russell Okung was already considering not going to the next players-owners meeting and this is not going to bode well for his chances of wanting to go more now. He already told ESPN that he doesn't see anything getting and here's his full quote from Thursday, before McNair's quote became public.
"I am disappointed that further progress has not been reached on discussions with the league," Okung said Thursday. "NFL officials appear unmotivated and don't share the same sense of urgency. Increasingly, the meetings appear unproductive at best and disingenuous at worst. Furthermore, the ongoing disparagement of Colin Kaepernick is a factor needing remedy for the players and public to feel heard and for real progress to be made."
You can imagine that the "inmates running the prison" quote isn't going to sit well with other players and Okung especially. Expect there to be some fallout after this and you can probably expect the players to make the owners look like absolute fools next time they meet.