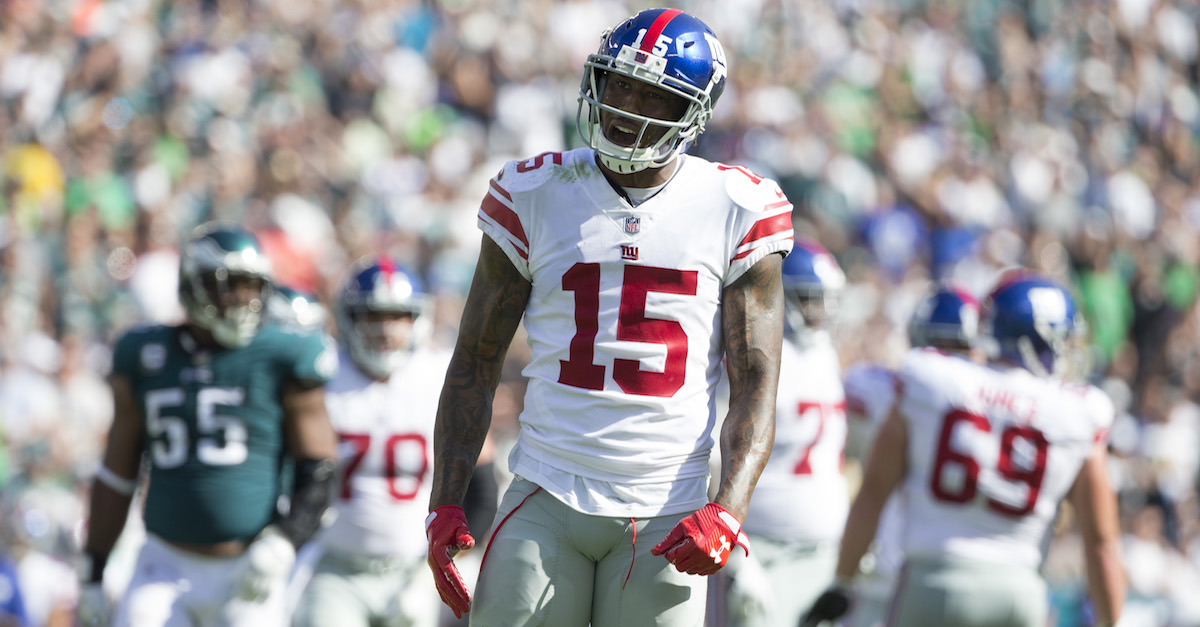 Mitchell Leff/Getty Images
PHILADELPHIA, PA - SEPTEMBER 24: Brandon Marshall #15 of the New York Giants reacts in front of Brandon Graham #55 of the Philadelphia Eagles in the third quarter at Lincoln Financial Field on September 24, 2017 in Philadelphia, Pennsylvania. The Eagles defeated the Giants 27-24. (Photo by Mitchell Leff/Getty Images)
Things aren't going well for the New York Giants this season as they fell to 0-3 after a loss to the Philadelphia Eagles, and newly acquired receiver Brandon Marshall hasn't meshed well in the Giants' offense through three games.
A frustrated Marshall had a confrontation with an Eagles fan before the game on Sunday, and a fan is alleging that Marshall spit in his face before the game. Another fan, Dave R., recorded the spat between the two, which started with the fan with a Randall Cunningham jersey calling out Marshall before the game. The Eagles fan said, "How's it gonna feel to be 0 and 3?" and, "Get all your catches in now during warm up, cause we know you can't catch during a game." Marshall came over to the fan and asked him why he was talking before someone on the Giants staff came over and took the receiver away.
The Eagles fan kept on, and he said "I'm in your head. You can't even take some verbal jabs from a fan, how you gonna play a game? All day I'm in your head."
Marshall then returned and allegedly told the fan, "Say it again, see if we don't fight. Come on, keep talking."
That's when the fan alleges Marshall spit on him. It's impossible to tell from the video, and Marshall hasn't commented on the situation yet.
After recording only one catch in each of his first two games with the Giants, Marshall had a much better day against the Eagles as he caught eight passes for 66 yards.
Still, it has been a horrendous start for the Giants, who were expected to be a playoff caliber team after last year's 11-5 season.
(h/t Sporting News)