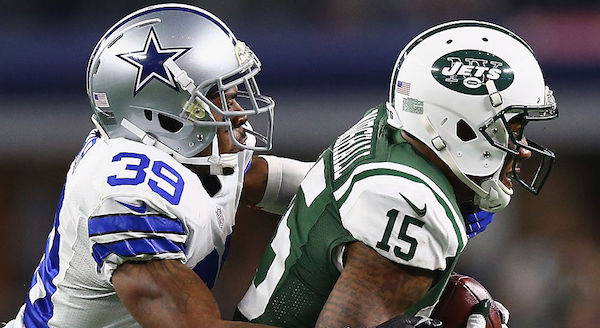 Ronald Martinez/Getty Images
ARLINGTON, TX - DECEMBER 19: Brandon Marshall #15 of the New York Jets runs the ball against Brandon Carr #39 of the Dallas Cowboys in the second half at AT&T Stadium on December 19, 2015 in Arlington, Texas. (Photo by Ronald Martinez/Getty Images)
New York Giants' wide receiver Brandon Marshall was in-studio for an interview with a Boston sports radio station Thursday morning, and it ended with Marshall walking out entirely.
The hosts asked Marshall about comments he made in 2015 on the white and black players being treated differently. He clearly didn't have interest in going back in time to discuss the matters, but it didn't end there and Marshall got very upset.
Via PFT:
"I'm not getting into the race card with you guys," Marshall said. "So if that's what you guys want to do you can go there, but black guys in America get treated differently, period. I'll just say that. Black guys in America get treated differently."
TMZ has video of the interview, and you can see from Marshall's body language that he doesn't want to discuss the comments, but the hosts continue to prod the Giants' wideout before he ultimately ends the interview abruptly once he sees where it's headed.
Marshall enters his first season with the New York Giants after spending last season with the New York Jets.