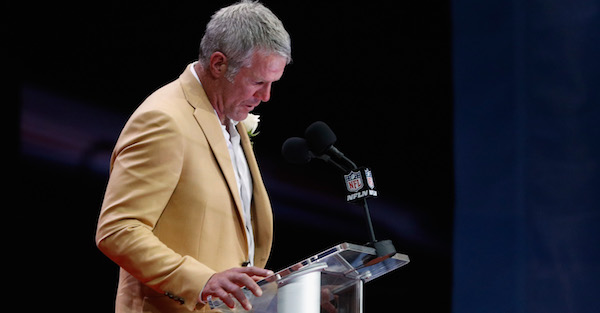 Joe Robbins/Getty Images
CANTON, OH - AUGUST 06: Brett Favre, former NFL quarterback, speaks during his 2016 Class Pro Football Hall of Fame induction speech during the NFL Hall of Fame Enshrinement Ceremony at the Tom Benson Hall of Fame Stadium on August 6, 2016 in Canton, Ohio. (Photo by Joe Robbins/Getty Images)
When it came to playing football, few quarterbacks made it look as fun as Brett Favre did in his 20 seasons.
That free-range, backyard football, gunslinger mentality helped him lead the Green Bay Packers to a win in Super Bowl XXXI, and it helped him break multiple career passing records.
However, as much as Favre enjoyed his time on the gridiron, he's become increasingly aware of the NFL's greatest threat: player safety.
Specifically, it's the danger of concussions and CTE that has raised Favre's eyebrows ? raised them enough for the NFL Hall of Fame quarterback to vote against members of his own family playing the game.
"I'd be very, very against my son, if I had a son, playing football, because of a fear of what's to come," he said Wednesday, prior to the Lee Remmel Sports Awards banquet. Favre has two grandsons and will soon have a third. but it sounds like we shouldn't get our hopes up for the Favre legacy to continue in the NFL.
"There is nothing out there that can treat a concussion. It?s all about trying to prevent one. As we know, you can?t prevent a concussion 100 percent," Favre said. "You can only do so much with helmets, equipment, tackling."
He's right. You can only do so much. Concussions have been, are, and will be a part of football. It's a dangerous game, and it can carry dangerous, long-term consequences.
That's exactly why many believe the future of the NFL is in trouble. Favre isn't alone.
(h/t Green Bay Press-Gazette)