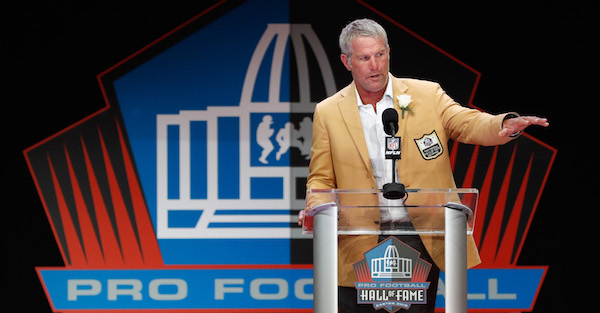 Joe Robbins/Getty Images
CANTON, OH - AUGUST 06: Brett Favre, former NFL quarterback, speaks during his 2016 Class Pro Football Hall of Fame induction speech during the NFL Hall of Fame Enshrinement Ceremony at the Tom Benson Hall of Fame Stadium on August 6, 2016 in Canton, Ohio. (Photo by Joe Robbins/Getty Images)
Everyone has an opinion as to who is the greatest quarterback of all-time. This includes Brett Favre, who is a Hall of Fame gunslinger himself. According to the former Green Bay Packers talent, New England Patriots legend Tom Brady is the greatest of all-time.
"I never thought I'd say that somebody was better than Joe Montana, but Joe Montana's always been the best quarterback that I've ever seen, and Tom has surpassed that," Favre said on the Rich Eisen Show. "And not taking anything away from Joe, Tom just gets better, you know, regardless of who is in there playing with him, which it's hard to find chemistry when you're plugging guys in there. But he and [Bill] Belichick have managed to do it at the highest level as consistent as anyone has ever done it. And I don't see any reason why Tom will diminish anytime soon."
Oddly enough, Favre has to know that his former employer has a nifty little quarterback of its own who many believe to be one of the greatest to ever do it. While this was likely just some praise he wanted to hurl toward Tom Brady, conspiracy theorists will certainly make this out to be about Favre taking subtle jabs at Aaron Rodgers.
For whatever it is worth, Favre also believes New England will win the Super Bowl.
"I don't foresee them being beat," Favre said. "I think they have the team to win it all this year, and I wouldn't bet against them next year."
Do you agree with the Hall of Fame quarterback?