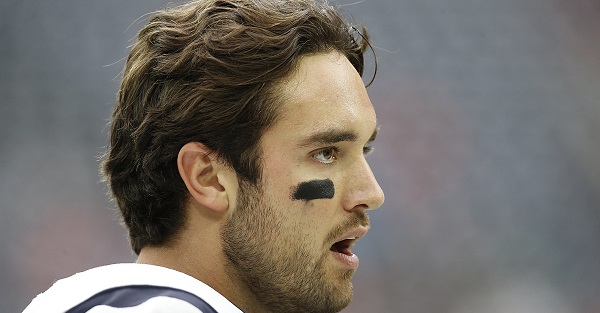 Thomas B. Shea/Getty Images)
HOUSTON, TX - SEPTEMBER 11: Brock Osweiler #17 of the Houston Texans warms up before playing against the Chicago Bears at NRG Stadium on September 11, 2016 in Houston, Texas. (Photo by Thomas B. Shea/Getty Images)
Brock Osweiler was absolutely brutal during his stint with the Houston Texans, to the point where the organization actually paid an asset (NBA-style) in order to ship the remainder of the quarterback's contract to the Cleveland Browns. With that as the backdrop, many assumed that Osweiler would languish in obscurity until the deal ran out but a recent tweet from ESPN's Adam Schefter indicates that might not be the case.
The notion that Osweiler might be the starter in Cleveland may sound abjectly crazy… until you remember what the rest of the depth chart looks like. The Browns currently have Cody Kessler in the top spot with rookie DeShone Kizer and Kevin Hogan in the mix, meaning that there isn't a huge impediment in Osweiler's way should he perform at a high level.
RELATED: Here's the reason Brock Osweiler was kicked out of Houston
Still, it's an astounding turnaround for a player the Browns were planning on trading or cutting just a few months ago.
In concordance with the notion that Osweiler might be the guy, Browns head coach Hue Jackson spoke about the possibility of a depth chart shake-up and Chris Pokorny of SB Nation's Dawgs By Nature brings word:
?I could. I could not, too. Again, I think guys are emerging. I think guys are working hard. I think the whole group has improved, but again, I am going to take a look at it after we get done with OTAs and see where we are. I think guys are making strides. I see it all the time, and they have got to continue to work and work hard. The young guys are getting better. Cody (Kessler) has improved. Brock (Osweiler) is doing well. We are going to take it all into account and see where we are.?
Only time will tell with regard to Osweiler potentially taking the job away from Kessler and (theoretically) Kizer but it definitely appears as if the former Broncos and Texans quarterback is really in the mix this time around.