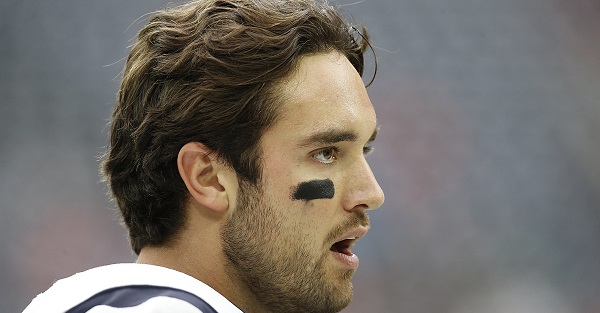 Thomas B. Shea/Getty Images
HOUSTON, TX - SEPTEMBER 11: Brock Osweiler #17 of the Houston Texans warms up before playing against the Chicago Bears at NRG Stadium on September 11, 2016 in Houston, Texas. (Photo by Thomas B. Shea/Getty Images)
Brock Osweiler's one-year tenure with the Houston Texans was so disastrous that the team traded him to the Cleveland Browns less than a year after signing him to a four-year, $72 million deal.
Osweiler is competing for the Browns' starting QB position for 2017, and he took a shot at his former coaches in Houston during a recent interview according to Nate Ulrich of the Akron Beacon Journal.
"The best part is I?m getting coached hard on my fundamentals," Osweiler said. "And I believe firmly that when your fundamentals and your feet are right as a quarterback, you?re going to make great decisions and you?re going to throw accurate footballs.
"I think that?s something that slid last season. I?m not going to go into great detail on that, but they did. My fundamentals slid, and because of that, you saw some poor decisions and some poor throws. If you go back to 2015, I feel like my fundamentals were pretty tight."
Related: Brock Osweiler finally speaks out on his NFL future following trade to Cleveland Browns
So basically, Osweiler is saying Texans head coach Bill O'Brien didn't coach him well enough, and that's why he only completed less than 60 percent of his passes and threw more interceptions than touchdowns in 2016.
There are probably multiple reasons why Osweiler didn't work out in Houston, but it's ridiculous to completely blame the coaching staff for his struggles.
The Texans still made the playoffs last year and actually won a game. The team has talent, but Osweiler's mediocre play kept the team from being a legitimate Super Bowl contender.
Perhaps his fundamentals have improved and he can win the Browns' starting QB job. But the fact that Osweiler's battling a rookie in DeShone Kizer and a second-year player in Cody Kessler doesn't bode well for him.
(h/t Pro Football Talk)