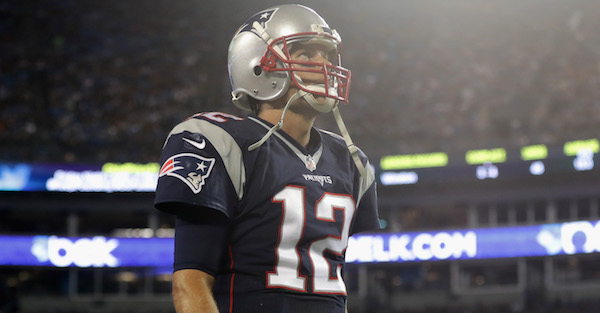 Streeter Lecka/Getty Images
CHARLOTTE, NC - AUGUST 26: Tom Brady #12 of the New England Patriots stays loose on the sideline in the 3rd quarter against the Carolina Panthers at Bank of America Stadium on August 26, 2016 in Charlotte, North Carolina. (Photo by Streeter Lecka/Getty Images)
New England Patriots quarterback Tom Brady celebrated his 40th birthday on Thursday.
While many are celebrating the NFL legend, former Denver Broncos linebacker Brandon Marshall is likely less hospitable.
Marshall was among the NFL players who participated in Mike Reiss' article detailing stories of Brady for ESPN.
Per ESPN:
"Marshall remembers Jan. 24, 2016, as if it were yesterday. The Broncos were playing New England with a trip to Super Bowl 50 on the line. It was second down. The Patriots broke the huddle.

'Tom Brady ?' Marshall recalled. ?He looked at (running back) James White and said: 'You?ve got 54. Get open.?

Marshall didn?t need to check his jersey. He?s No. 54. Brady shouted the Patriots were coming after him.

'Before the play,' said Marshall, still mystified how Brady could have such open contempt of his pass-coverage skills. 'He didn?t read the defense. He just said: ?You?ve got 54. Get open.?

How did Marshall react?

'I took it as a challenge. I was offended, at first. ? He said it so loud, like he wanted me to hear,' Marshall said.

From the shotgun, Brady took the snap and immediately looked for White on an option route. He threw. Marshall refused to be beaten. The pass fell incomplete.

Marshall trotted to the Denver sideline, being replaced in Denver?s third-down defensive package by teammate Danny Trevathan. Before leaving the field, however, Marshall recalled, 'I looked at Brady and I looked at James White, like ?All right. That?s how you feel about me???
Marshall added, "I'll never forget that." "I'm going to say something to Brady at some point."
Regardless, happy birthday wishes are in order for the legend and one of — if not the — all-time greatest quarterbacks of all-time.