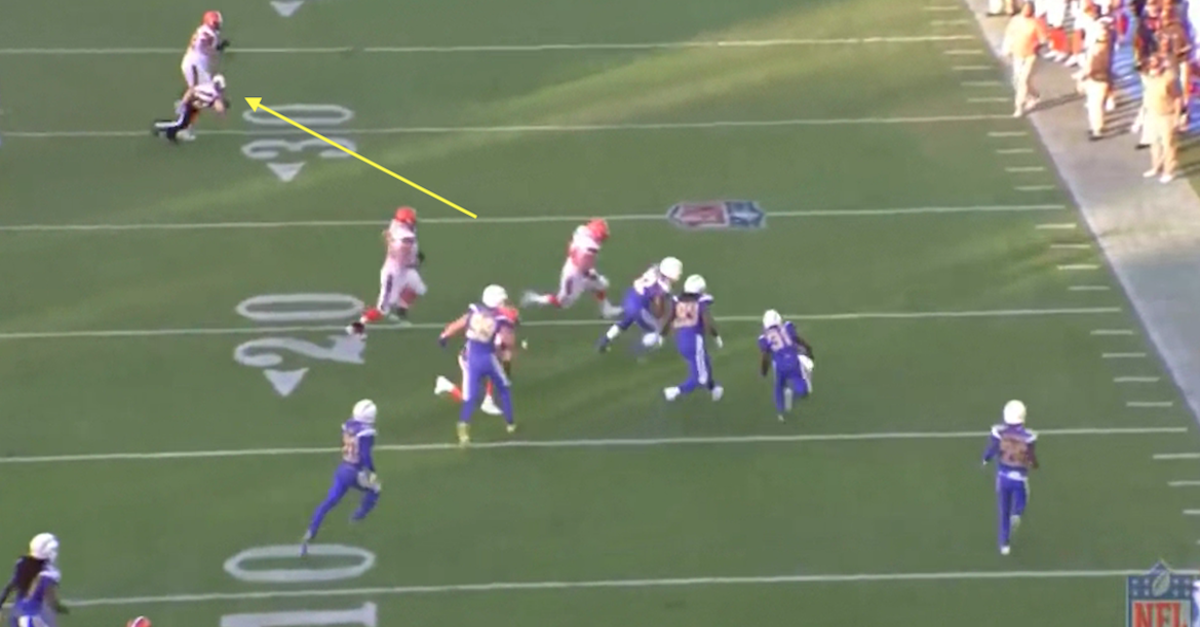 Screenshot
The Cleveland Browns always seem to find a way to get in their own way, but against the Los Angeles Chargers this past weekend, they proved that they can be a pain in the neck even for innocent bystanders who get in their way.
The Browns are the worst team in the NFL at 0-12 and while that's not surprising, in typical Browns fashion, they continue to find ways to embarrass themselves.
Against the Chargers, it was right tackle Shon Coleman who will go down in infamy for causing two people to hit the deck in one play. The first was his quarterback, DeShone Kizer, who was sacked by Joey Bosa in a long-developing play after Coleman let Bosa get the edge. To be fair to the big offensive tackle, Bosa was aided by another pass-rush/protection combo basically creating a pick for him behind the pocket, but that play really isn't why Coleman is being written about today.
What happened after put Coleman in the headlines.
After giving up the sack, which led to a fumble and the Chargers getting the ball, Coleman moseyed himself towards the sideline, apparently in an effort to play defense if the situation were to arise.
The problem? In his path was one of the game's referees, especially considering the fact that Coleman checks in at a healthy 6-foot-6, 311 pounds. The referee stood no chance in the direct path of the big offensive tackle, but it didn't help that second-year pro out of Auburn shoved the poor ref out of the way — perhaps subconsciously thinking that he was a member of the Chargers' defense.
The play in question can be seen below:
Sadly, the referee went flying like a rag doll.
The Chargers got the ball back up 19-10 after the play, which essentially sealed Cleveland's fate. The Browns did get the ball back one more time after a Los Angeles punt, but that drive ended in an interception.
And thus, the Browns remained winless.