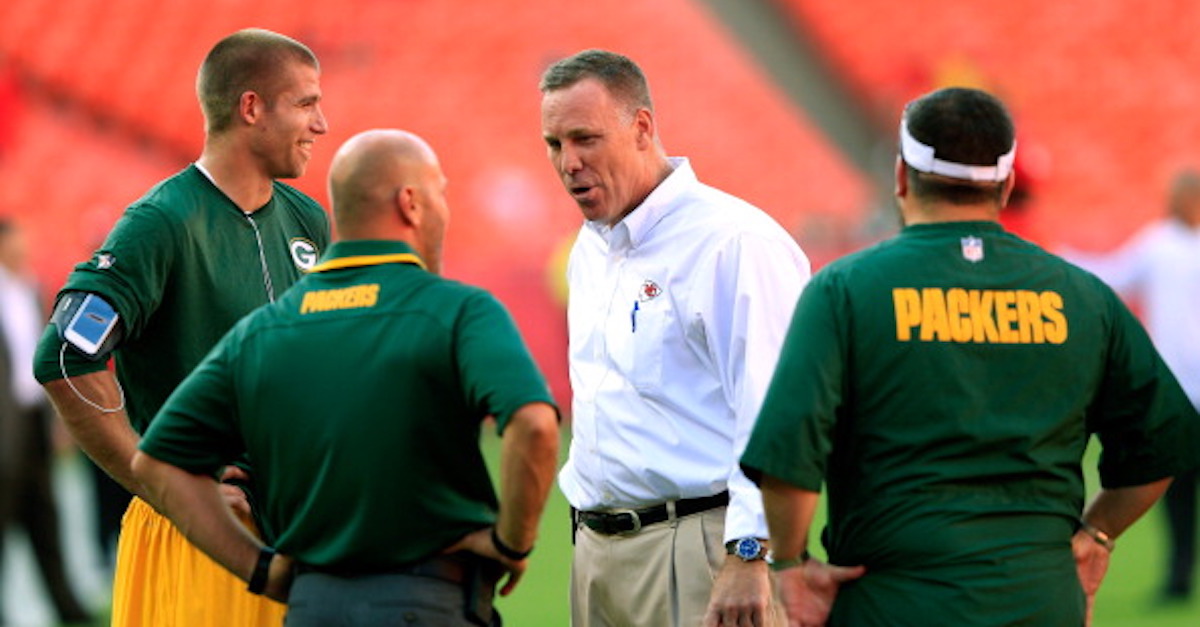 Jamie Squire/Getty Images
KANSAS CITY, MO - AUGUST 29: Former Green Bay Packers General Manager and current Kansas City Chiefs General Manager John Dorsey greets former staff members prior to the preseason game at Arrowhead Stadium on August 29, 2013 in Kansas City, Missouri. (Photo by Jamie Squire/Getty Images)
The Cleveland Browns aren't known for making good moves, but their most recent could end up being a game-changer if things end up falling in line.
At the very least, they've brought a competent general manager into the fray.
Less than 24 hours after firing executive VP of football operations, Sashi Brown, Cleveland has gone out and hired John Dorsey to be its new general manager.
Dorsey is, of course, the former GM of the Kansas City Chiefs, a position he held from 2013-2016. He helped lead Kansas City to a 43-21 record during that time and drafted a number of solid playmakers on both sides of the ball of KC.
The Browns, for their part, seem excited about their new decision maker, per nfltraderumors.com.
?We are thrilled to have John Dorsey lead our football operations,? said Dee and Jimmy Haslam. ?John has been immersed in the NFL for 26 years, won two Super Bowls, built sustainable winning football teams and is highly respected for his football acumen. We know we have a critical and very positive opportunity ahead of us to profoundly impact the foundation of this football team. Bringing in someone of John Dorsey?s caliber, his track record of success and his experience, significantly strengthens our opportunities to build a winning football team and that has been, and continues to be, what we want for our fans.?
Dorsey also released quite a lengthy statement:
?Football is what I know, it is what I love, it is what I have worked my whole career at and I thrive on every element that goes into building a winning football team,? said Dorsey. ?I have spent a majority of my football life with two franchises that also have storied history and I think I have a feel for the mentality of the fans in Cleveland and what it would mean to recreate the success this franchise once had. I also have quickly realized how passionate Jimmy and Dee are about bringing a winning team to the city and would have not taken the job if I didn?t think the right ownership was in place. I am eager to work with Hue, his staff, and our personnel department and help bring us the success these fans so deserve.?
According to reports, the Browns won't hire another vice president of football operations, which means Dorsey is completely the man in charge of all football-related decisions in Cleveland.
For the most part, this seems like a good move for Cleveland. Dorsey is known for his ability to scout football talent, a skill he learned and honed in 21 years in the Green Bay Packers' scouting department. Keep in mind, he helped Green Bay draft players like Aaron Rodgers and Greg Jennings.
Dorsey does have quite a monumental task ahead of him, which is well worth remembering. Cleveland is currently 0-12 and the Browns haven't been good in what seems like forever. Head coach Hue Jackson has won only one game in the past two seasons and he may not end up winning one this season.
For now, Jackson's job seems to be intact, but one has to wonder how long Dorsey will keep him around. If this is truly a new era in Cleveland football, ultimately that may mean a new head coach as well.