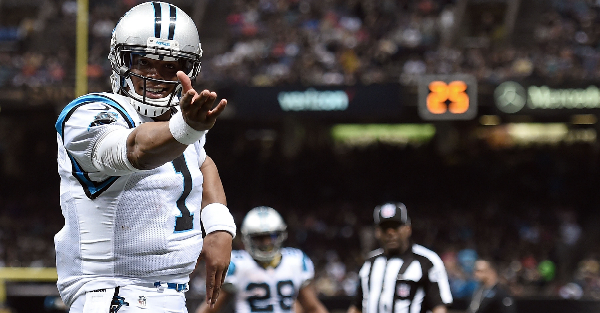 NEW ORLEANS, LA - DECEMBER 06: Cam Newton #1 of the Carolina Panthers celebrates a touchdown during the third quarter of a game against the New Orleans Saints at the Mercedes-Benz Superdome on December 6, 2015 in New Orleans, Louisiana. (Photo by Stacy Revere/Getty Images)
Cam Newton is having the season of his career, but his audience has found nearly every way to criticize the Carolina Panthers quarterback.
From his "dabbing" celebration to the way that he dresses, Newton's critiques have found any way to bring down the quarterback.
On a "Kiss My Ass" segment on "Inside the NFL," New York Jets wideout Brandon Marshall received a few texts from Cam Newton and here's what he had to say, via Next Impulse Sports:
?For you guys that think I celebrate too much ? kiss my,? Newton?s text to Marshall read.

?For you guys that think the towel on my head is ridiculous ? kiss my.?

?The way I dress ? kiss my.?

?For all the guys out there that think I?m not the MVP ? kiss my.?
Never change, Cam.