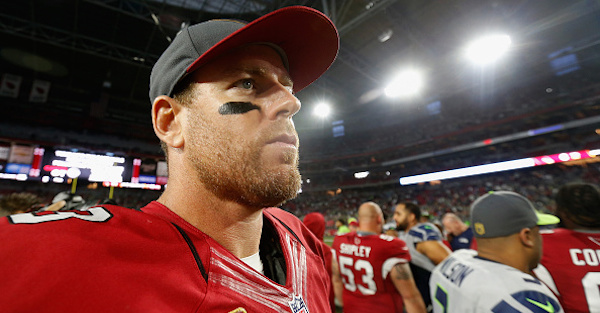 Christian Petersen/Getty Images
GLENDALE, AZ - JANUARY 03: Quarterback Carson Palmer #3 of the Arizona Cardinals walks off the field following the NFL game against the Seattle Seahawks at the University of Phoenix Stadium on January 3, 2016 in Glendale, Arizona. The Seahawks defeated the Cardinals 36-6. (Photo by Christian Petersen/Getty Images)
The NFC West division is looking a little different than what we've become accustomed to in the past few years.
The Seattle Seahawks' offensive line isn't holding up while its defense gets older. The San Francisco 49ers are still winless, and the Los Angeles Rams are lighting up scoreboards and leading the division.
And, somewhere buried in the mix, the Arizona Cardinals are just trying to keep their heads above water right now.
After suffering a 33-0 loss to the Rams on Sunday, the Cardinals took an even bigger hit when starting quarterback Carson Palmer left the game with a broken arm. He'll be forced to undergo surgery and will miss at least eight weeks.
With Drew Stanton taking over the reins of the Arizona offense now, there are plenty of questions left to be answered for the Cardinals. Star running back David Johnson is also injured, and it looks as if the 2017 season is going to be a brutally long one in Phoenix.
There will be even more questions surrounding the future of the Cardinals' quarterback position — specifically Palmer.
At 37, Palmer is already headed down the home stretch of his career. And, while it's unlikely a competitor like Palmer will go out on anything but his own terms, this injury does put things in perspective.
The 2018 quarterback class will be stocked with names like Josh Rosen, Sam Darnold, Lamar Jackson, etc. So, maybe Palmer's successor will finally be chosen next spring.
[h/t Pro Football Talk]