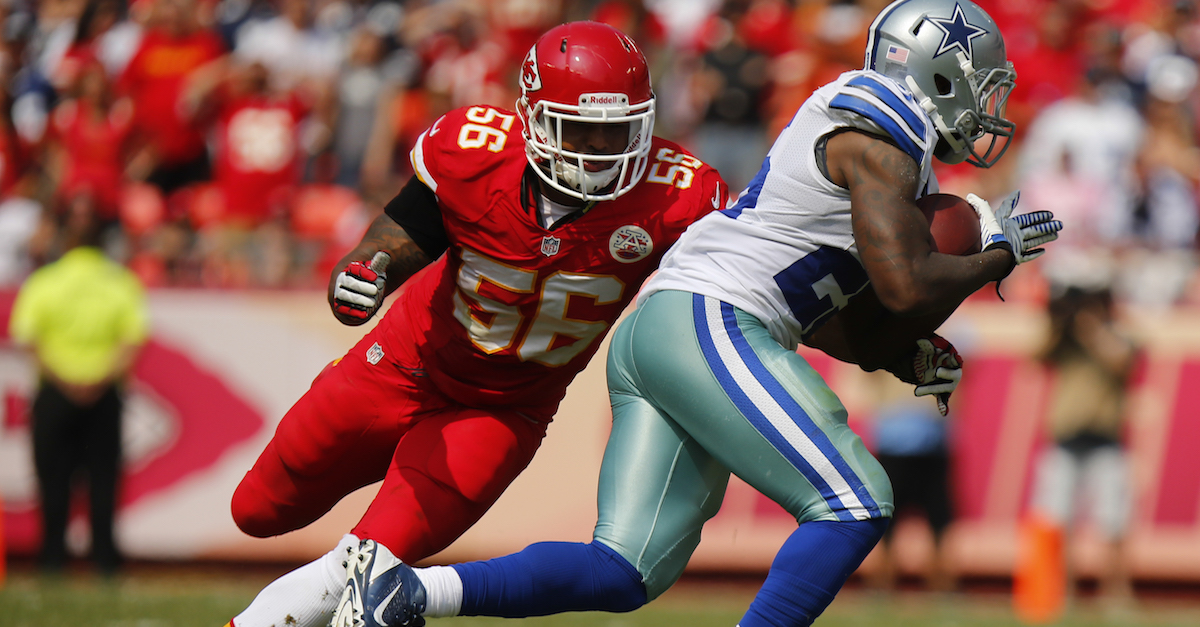 Kyle Rivas/Getty Images
KANSAS CITY, MO - SEPTEMBER 15: Derrick Johnson #56 of the Kansas City Chiefs attempts to take down Lance Dunbar #25 of the Dallas Cowboys in the third quarter on September 15, 2013 at Arrowhead Stadium in Kansas City, Missouri. (Photo by Kyle Rivas/Getty Images) *** Local Caption *** Derrick Johnson ; Lance Dunbar
The Dallas Cowboys shocked just about every when they went 13-3 last season after Tony Romo went down and rookie Dak Prescott took over as the team went on to snag the No. 1 seed in the NFC.
However, several analysts aren't so sure the Cowboys are going to replicate 2016-17's success in 2017-18. Although most seem to think the team will at-worst make the playoffs, CBS Sports' Jason La Canfora doesn't believe Jerry Jones' team is making the postseason at all.
Via 247sports:
"From FS1 mouthpiece Colin Cowherd to ex-NFL player Eric Davis and now CBS insider Jason La Canfora, there's a faction of analysts who are of the firm belief the team will take a sizable step back from their 13-3 record they achieved only a few months ago. While Cowherd and Davis do still see the Cowboys as a potential playoff team, La Canfora isn't convinced."

"He believes that after securing a first-round bye and home field advantage in 2016, the Cowboys will miss the 2017 postseason altogether."
In the NFL, things can change for a team in a hurry. And it's not crazy to suggest that the Cowboys miss the playoffs in 2017-18 when you consider the Carolina Panthers went 15-1 and didn't qualify for the playoffs exactly one season later. You never know.
Still, the Cowboys brought a lot back, added more help in the 2017 NFL Draft to the team's defense, and have all the firepower in the world on offense with one of the NFL's most-devastating offensive lines.
La Canfora could be right and this team could miss the postseason all together, but there are still a lot of questions marks surrounding Dallas's NFC East rivals, and it's hard to believe in any team more than the Cowboys in that division heading into this season.