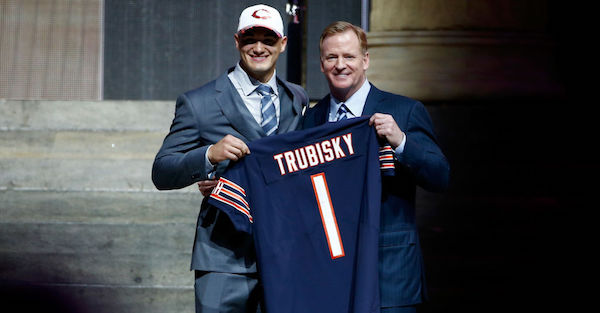 Jeff Zelevansky/Getty Images
PHILADELPHIA, PA - APRIL 27: (L-R) Mitchell Trubisky of North Carolina poses with Commissioner of the National Football League Roger Goodell after being picked #2 overall by the Chicago Bears (from 49ers) during the first round of the 2017 NFL Draft at the Philadelphia Museum of Art on April 27, 2017 in Philadelphia, Pennsylvania. (Photo by Jeff Zelevansky/Getty Images)
The Chicago Bears made a shocking trade early in the draft when they traded from No. 3 to No. 2 to select quarterback Mitchell Trubisky, but they apparently weren't the only team trying to land the QB.
Related: After fleecing the Bears, San Francisco trolled Chicago big time with announcing their draft pick
According to Pro Football Talk, Tennessee Titans general manager Jon Robinson said on SiriusXM NFL Radio that several teams called him about moving up to No. 5 in the draft to take Trubisky.
?We had some calls about pick No. 5,? Robinson said. ?When the trade happened between San Francisco and Chicago, it kinda threw water on anything in that spot.?
When the Bears made the trade, the Titans stopped receiving calls.
The most surprising part of that information is that it means several teams had Trubisky as the top QB on their draft board.
Before the draft, Deshaun Watson was seen as the top QB prospect by some, and the Houston Texans traded up to No. 12 to draft him. Patrick Mahomes was drafted at No. 10 by the Kansas City Chiefs, but it appears as if Trubisky was the top QB to many teams in the league.
The Bears still traded quite a bit to move up one spot to draft someone who might've been there at No. 3 anyway, but if Trubisky is an elite QB, no one will remember what it cost to acquire him.