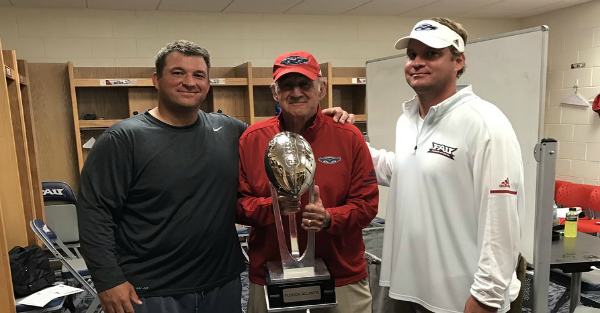 @Chris_Kiffin/Twitter
@Chris_Kiffin/Twitter
Chris Kiffin, brother of Lane Kiffin and defensive coordinator for the Florida Atlantic Owls, is leaving the program to join the San Francisco 49ers.
The Entertainment and Sports Programming Network confirmed the news on its website.
A Kiffin in the National Football League is basically part of tradition. Monte Kiffin spent decades in the league in various roles, and Lane Kiffin was famously the Oakland Raiders head coach — as well as the person Al Davis once berated using a projection screen.
As for Chris Kiffin, he's spent the majority of his career coaching in college. While nepotism may have helped in him becoming the defensive coordinator for FAU, he has coached at Idaho, Nebraska, USC, Arkansas State and Ole Miss.
This is a tough loss for Lane, who already lost his offensive coordinator, Kendal Briles, to Houston. Charlie Weis Jr. has already been hired as a replacement for Briles.
Florida Atlantic had a stellar voyage last season. When Lane Kiffin wasn't trolling people on the mean streets of Twitter, he was leading the Owls to a Conference USA Championship.