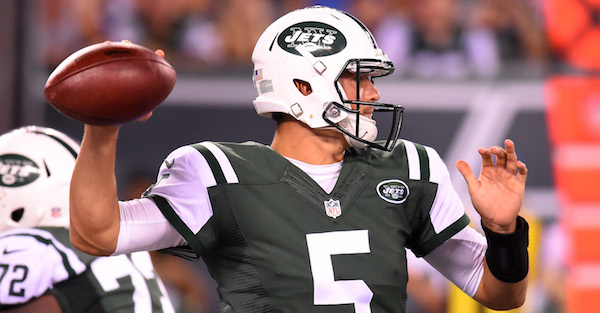 Rich Barnes/Getty Images
EAST RUTHERFORD, NJ - AUGUST 27: Christian Hackenberg #5 of the New York Jets drops back to pass against the New York Giants during the fourth quarter at MetLife Stadium on August 27, 2016 in East Rutherford, New Jersey. The Giants defeated the Jets 21-20. (Photo by Rich Barnes/Getty Images)
Look how far he's fallen.
At one time, Christian Hackenberg looked like a can't-miss prospect. Now, he can't miss an opportunity to throw the ball to the other team.
Okay, that might be a little harsh. But that doesn't make it any less true.
Hackenberg's struggles have been well documented, and they continued on Saturday night in the New York Jets' 32-31 loss to the New York Giants.
The second-year quarterback completed 12-of-21 passes for 126 yards, a touchdown and two interceptions. However, both interceptions were returned to the house.
First, it was Landon Collins undercutting a throw to the flat.
Then it was Donte Deayon getting in on the action.
Now, no one is expecting the Jets to keep pace with the New England Patriots in the AFC East this season.
But for their fans, the offseason can't get here soon enough. With a deep quarterback class set to come out for the 2018 NFL Draft, the Jets should look to snag one of them — whether it be Josh Rosen, Sam Darnold, Josh Allen, etc. — and cut ties with Hackenberg for a fresh start.
[h/t The Spun]