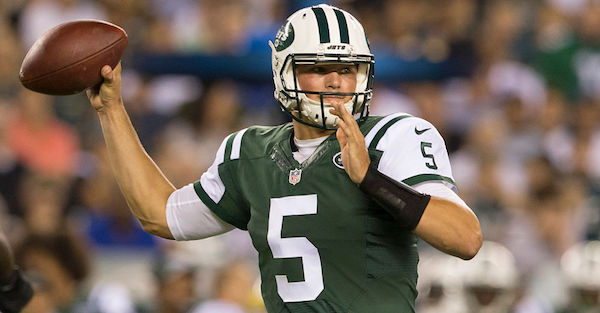 Mitchell Leff/Getty Images
PHILADELPHIA, PA - SEPTEMBER 1: Christian Hackenberg #5 of the New York Jets throws a pass in the second quarter against the Philadelphia Eagles at Lincoln Financial Field on September 1, 2016 in Philadelphia, Pennsylvania. (Photo by Mitchell Leff/Getty Images)
In the months leading up to the 2017 NFL Draft, many Jets fans chomped down on their fingernails with anxiety over New York potentially selecting a quarterback in the first round — despite a relatively weak quarterback class.
Instead, general manager Mike Maccagnan decided to spend that first-round pick on safety Jamal Adams, and he signed veteran quarterback Josh McCown to compete with Christian Hackenberg and Bryce Petty. However, it was believed the Jets were going to give Hackenberg every opportunity to win the starting job.
But, you see, one of the tricks to being an NFL quarterback is knowing how to lead the men in the huddle.
Apparently, Hackenberg struggled with that on Monday, as he was reportedly pulled off the practice field after incorrectly breaking the huddle twice in a row.
The former Penn State star was a second-round pick by the Jets in the 2016 NFL Draft, and he has impressed here and there — most recently in New York's Green and White scrimmage on Saturday night.
However, if Hackenberg can't put it all together this season, he may suffer a fate similar to Jimmy Clausen.
Clausen, a highly touted recruit with an underwhelming college career (sound familiar?), was the No. 48 overall pick by the Carolina Panthers in 2010. A year later, Carolina drafted Cam Newton with the first pick, and Clausen never recovered.
Sam Darnold, Josh Allen, and Josh Rosen will lead a stacked quarterback class in 2018. If the Jets stumble into a top-three draft pick, as many are expecting, then Hackenberg could meander down the same long road Clausen did.
(h/t BroBible)