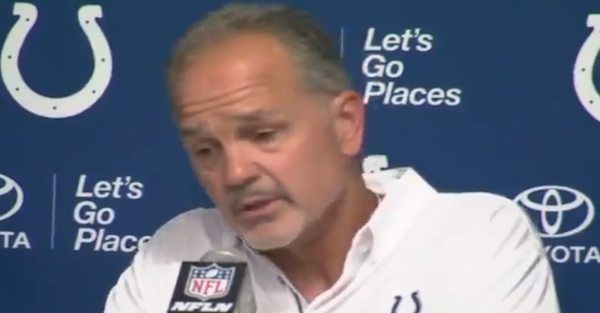 @cjzero/Twitter
Indianapolis Colts coach Chuck Pagano had a rough Sunday after his team got crushed, 46-9, without quarterback Andrew Luck.
In his post-game press conference, Pagano was beaten so badly he apparently had forgotten which team actually beat him.
Nope, coach. The San Francisco 49ers got blown out too, this time at the hands of the Carolina Panthers, 23-3.
Judging by the miserable start by the Colts, they may not have fared any better against the 49ers.
Scott Tolzien opened the game with a pick-6, completed 9-of-18 passes for 128 yards and two touchdowns. Newly-acquired Jacoby Brissett completed 2-of-3 passes for 51 yards after taking over later in the game, and he should get more burn if Luck misses more time.