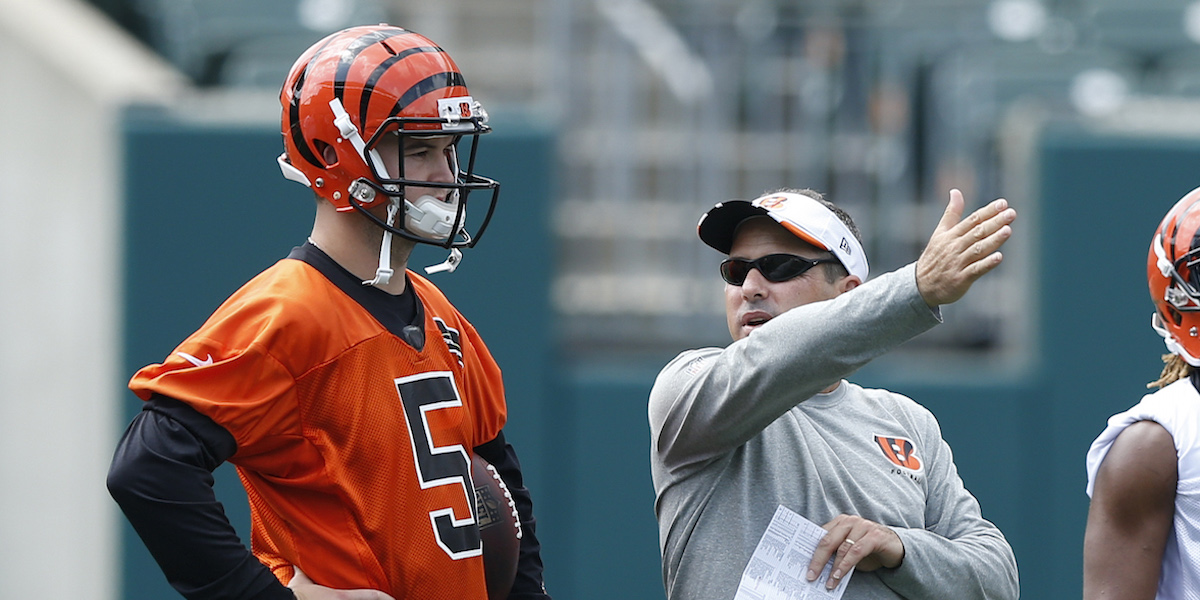 Joe Robbins/Getty Images
CINCINNATI, OH - JUNE 3: AJ McCarron #5 of the Cincinnati Bengals listens to quarterbacks coach Ken Zampese during an organized team activity (OTA) workout at Paul Brown Stadium on June 3, 2014 in Cincinnati, Ohio. (Photo by Joe Robbins/Getty Images)
Coming off two disappointing losses to open their season, the Cincinnati Bengals fired offensive coordinator Ken Zampese on Friday, according to Ian Rapoport.
"Ken Zampese has done a tremendous job for us for my 15 years here, and I have the utmost respect for Ken as a person and as a coach," Bengals coach Marvin Lewis said in a statement. "But I feel it best for the football team to breathe new life into the offense, and that's why I am making the change. Bill Lazor has great experience in the league and as a coordinator, and I feel Bill can progress our offense the way we need. We have a lot of talent on offense, and we need to keep working to take full advantage of the personnel we have."
Quarterbacks coach Bill Lazor, who has previously worked as an offensive coordinator for the Miami Dolphins, will take over as Cincinnati's interim offensive coordinator.
Zampese has served as the Bengals' offensive coordinator since 2016 and has been employed by the franchise since 2003, having previously worked as a quarterbacks coach.
As Rapoport noted, the Bengals have struggled offensively during their first two losses, having failed to score a single touchdown. Wide receiver A.J. Green voiced his displeasure after Thursday's 13-9 loss to the Houston Texans at home.
?We are playing like s**t right now,? Green told WLWT. ?We got to find a way to get our playmakers the ball. That?s it. It?s a superstar-driven league. You are not going to win without them.?
Green was targeted just eight times and made five catches for 67 yards, but was inexplicably a non-factor late in Thursday's loss. The former Pro Bowler was targeted just four times — including once in the fourth quarter — and made two catches for three yards during the entire second half of against a Texans team that was without both of its starting cornerbacks due to injury.
?Being one of the leaders of the offense I feel like ? no disrespect to nobody else ? that ball should be mine somewhere somehow,? Green said of the team?s final drive. ?That?s my mentality. In those situations, I want the ball. As the leader of the offense, you should be like that. I wanted that ball.?