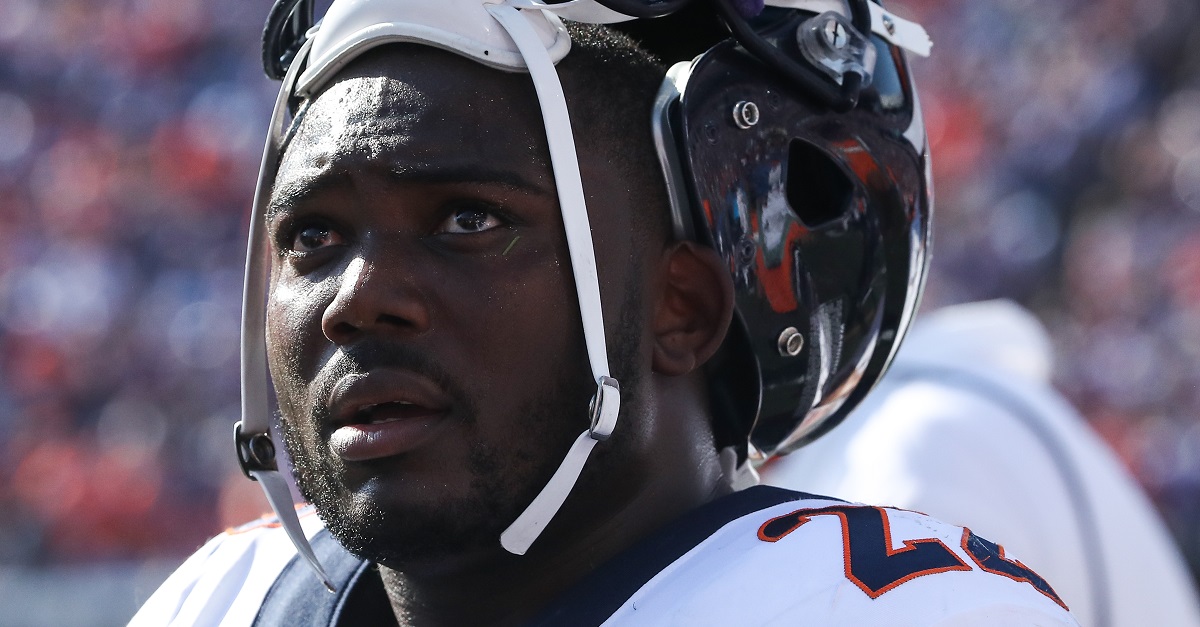 Tom Szczerbowski/Getty Images
ORCHARD PARK, NY - SEPTEMBER 24: C.J. Anderson #22 of the Denver Broncos during an NFL game against the Buffalo Bills on September 24, 2017 at New Era Field in Orchard Park, New York. (Photo by Tom Szczerbowski/Getty Images)
The Denver Broncos are looking to make a few changes this offseason, most notably at the quarterback position. However, it seems like they may want to make another change at the running back position as well. ESPN's Jeff Legwold is reporting that starting running back C.J. Anderson is on the chopping block.
Anderson closed out the Broncos' disappointing 2017 as one of the bright spots with his first career 1,000-yard rushing season, but he was openly wondering what his future would be immediately following the season finale. Anderson's contract is structured in such a way the Broncos could release him, with two years remaining on the deal, without any "dead money" charge against the salary cap. The team also seems intent on getting Devontae Booker into the No. 1 role. Coach Vance Joseph, somewhat surprisingly to many with the team and in the league, fired assistant head coach/running backs coach Eric Studesville after the 5-11 finish, a move Anderson was particularly critical of on social media. Add it all up and Anderson appears to be headed elsewhere. If that's the case, the Dolphins will have interest given the Broncos matched Miami's deal two years ago to keep Anderson.
Anderson did have his best rushing season despite only scoring four total touchdowns on the season. To be fair, the rest of his team didn't score a whole lot either as they limped their way to a 5-11 record. However, the team apparently wants to feature Devontae Booker as their top running back.
The Broncos could deal Anderson for a mid-round pick while clearing $4.5 million in cap space, with no dead money hit. They'd save the same amount by outright releasing him, but if they can get something in return they obviously should explore that route first.
Should Anderson end up in Miami he would reunite with Adam Gase and Eric Studesville for coaches. He'd also get to pair with Kenyan Drake and save his knees a bit since he wouldn't be the main workhorse.
[h/t 247Sports]