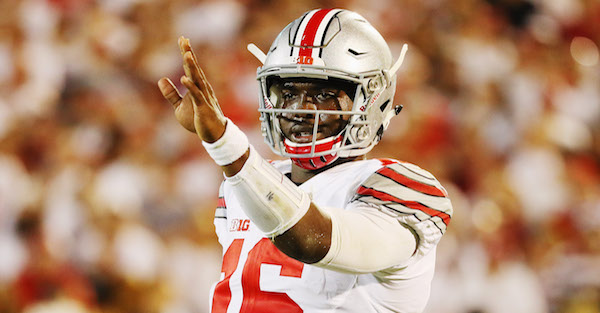 Scott Halleran/Getty Images
NORMAN, OK - SEPTEMBER 17: J.T. Barrett #16 of the Ohio State Buckeyes waits for a play on the field in the first half of their game against the Oklahoma Sooners at Gaylord Family Oklahoma Memorial Stadium on September 17, 2016 in Norman, Oklahoma. (Photo by Scott Halleran/Getty Images)
If there's anything defenders shouldn't be doing against a College Football Playoff opponent — specifically a former National Championship team — it's calling out players.
Clemson safety Jadar Johnson called out Buckeyes quarterback J.T. Barrett, instead of taking a hint from teammate Ben Boulware and comparing the opponent to the Tigers' Deshaun Watson, per AP:
"He?s pretty good," Johnson said. "We?ve definitely faced better quarterbacks than him. I feel like if we can limit him on the ground, with his running, we?ll be pretty good. I don?t think he?s a very accurate passer. I?m not taking anything away from him. I think he?s a real good player but I feel like his strong point is just on his legs."
Barrett has thrown for over 2,400 yards, 24 touchdowns and five interceptions. He's certainly had duds (83 yards through the air against Michigan State and 124 yards passing in double overtime with zero touchdowns and one interception against Michigan), but he's also lit top-tier opponents up with his arm (over 200 yards passing against Wisconsin, Penn State and Nebraska).
We've got a feeling things will be personal when the two teams do battle on Saturday afternoon at 3 p.m. ET.