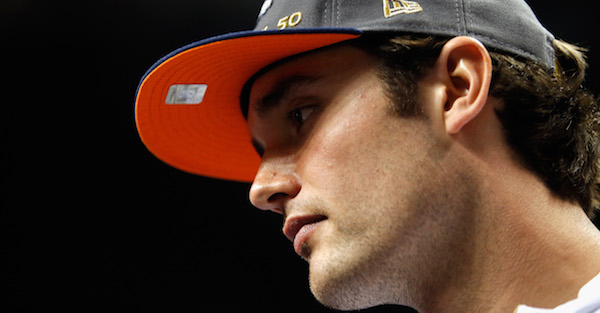 Ezra Shaw/Getty Images
SAN JOSE, CA - FEBRUARY 01: Brock Osweiler #17 of the Denver Broncos looks on at Super Bowl Opening Night Fueled by Gatorade at SAP Center on February 1, 2016 in San Jose, California. (Photo by Ezra Shaw/Getty Images)
After starting out the season with Trevor Siemian as the starting quarterback and "permanent decision", the Denver Broncos made the switch to Brock Osweiler.
Osweiler was traded in a salary dump to the Browns earlier this summer, who waived him. Osweiler headed to the Broncos on a one-year, $775k deal, meaning Cleveland is responsible for the remaining $15.225 million in guaranteed salary.
That means on Sunday, when the Broncos play the Philadelphia Eagles, the Broncos will pay Osweiler $48,437, and the Browns will chip in a whopping $895,588, per Pro Football Talk.
Siemian has completed 61.5 percent of his passes for 1,669 yards to go with nine touchdowns, but also 10 interceptions. He?s also taken 25 sacks so far this year, which is six less than what he took in 14 games last season.
The team is 3-4 and desperately needs the offense to pick up the slack that the defense just can?t. They have the fourth-worst offense in the AFC having scored only 127 points and frankly, it?s a miracle they?ve only allowed 147 considering how often the defense is on the field.
Less than two years ago, Osweiler decided to turn down a contract with Denver (worth $16 million per year, according to PFT?s Mike Florio) to join the Houston Texans. His gig in Texas didn?t work out, and that?s an understatement.
Osweiler showed some nice things during the preseason in Cleveland, though, and that?s led to him getting another chance in Denver.
With that said, the past has to be in the past for Osweiler, because he does have the opportunity to make up for lost time.
Previously, he strolled the Denver sidelines as the backup to Peyton Manning, which was a gig with a low ceiling. This time around, though, Osweiler seems to have a firm grip of the starting job, for at least this week.
What a story for the former second-round pick.