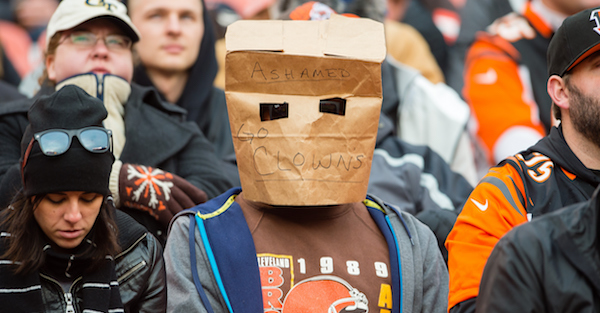 CLEVELAND, OH - DECEMBER 6: A Cleveland Browns fan expresses their disappointment with the team during the second half against the Cincinnati Bengals at FirstEnergy Stadium on December 6, 2015 in Cleveland, Ohio. The Bengals defeated the Browns 37-3. (Photo by Jason Miller/Getty Images)
Moneyball football is in full effect in Cleveland, or so it seems.
Holding the No. 2 overall selection, the Browns have their choice at franchise quarterback, or just about any player at any position after the Tennessee Titans (likely) snag an offensive lineman to protect Marcus Mariota.
Except according to reports from Cleveland.com, the Browns are willing to deal their selection.
"There has been some interest in the pick, but there always typically is toward the top of the draft, just teams feeling each other out," Browns Executive Vice President Sashi Brown said Wednesday on SiriusXMNFL radio. "I think in earnest as you get closer to the draft, probably in about a week's time we'll start getting real calls with more substantive traction to them."
And if the Browns do move down, Cleveland could actually hold off until the second round to snag a quarterback:
Top prospects Carson Wentz and Jared Goff will likely be off the board in Round 1. Does that mean Cleveland would be happy settling for the likes of Paxton Lynch, Christian Hackenberg, Connor Cook, Dak Prescott or even Cardale Jones?
We'll see how this plays out before passing judgement, as some second-round quarterbacks have turned into legit studs in recent years.