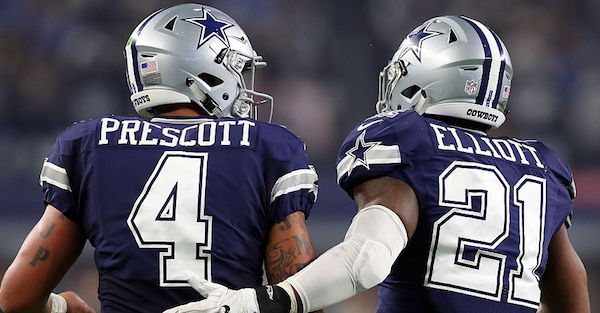 Jason Miller/Getty Images
ARLINGTON, TX - NOVEMBER 24: Dak Prescott #4 of the Dallas Cowboys celebrates with Ezekiel Elliott #21 after scoring a touchdown during the fourth quarter against the Washington Redskins at AT&T Stadium on November 24, 2016 in Arlington, Texas. (Photo by Tom Pennington/Getty Images)
On FS1's Colin Cowherd's radio program "The Herd" Tuesday afternoon, the radio host ripped into Dallas Cowboys' quarterback Dak Prescott being ranked 14th in the Top 100 players voted on by the NFL players.
The list, which was compiled by the NFL Network, reflected who the NFL players actually perceive as the top 100 players heading into 2017 from just their perspective.
Cowherd, took exception, of course, as Prescott finished ahead of Ben Roethlisberger, Andrew Luck, Drew Brees and many other stars. Wondering if Prescott should be ahead of those other quarterbacks is fair, as most fans and GMs would probably prefer those names in 2017 under center for their team than Prescott.
Still, Cowherd explained what he thinks is the real reason Prescott has become so respected and so overrated by the media and his peers.
Via Fox Sports:
"… It's the cool factor, it's the 'it' factor that you can lead alpha males. I think his arm is OK. I think his feet are good, not great. They're not as good as Russell Wilson's. His arm is not as good as Andrew Luck. But there is a cool factor with Dak that you can't deny, and players now have him right behind Derek Carr as the 14th best player in this league. He hasn't proven anything close to that!"
This is an interesting take, as Prescott certainly does have a sense of coolness to his persona. He has too, as he is the quarterback for the Cowboys, and he led them to the No. 1 seed in the NFC as a rookie. He does, however, have a lot to prove, as Cowherd points out, there is nothing that stands out outside of his game on film, but he just has something in him that makes it all work.