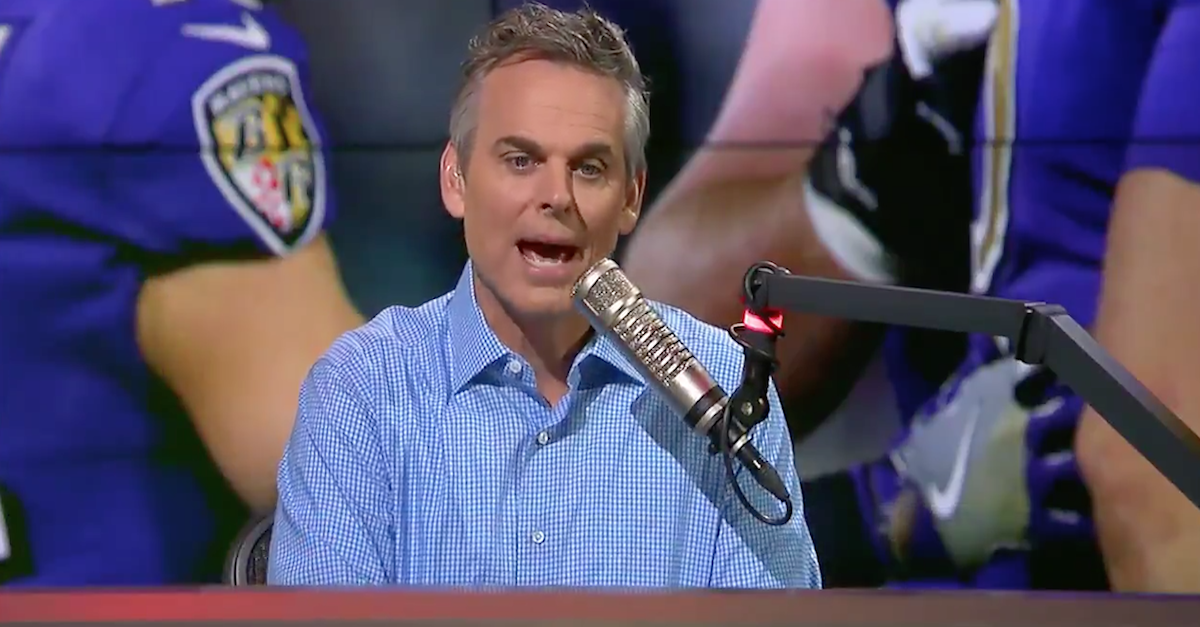 @TheHerd/Twitter
Joe Flacco was absolutely demolished by Dolphins' linebacker Kiko Alonso this past Thursday night while sliding at the end of a play. Alonso actually knocked Flacco's helmet off and the hit resulted in the Ravens' quarterback suffering a concussion, but was it a dirty hit? Should Alonso be fined and/or suspended?
According to Colin Cowherd, Alonso actually wasn't the one to blame for the hit. Cowherd, a shock-jock in the truest sense, seems to think that because Flacco is tall — he checks in at 6-foot-6, 245 pounds — he's terrible at sliding. He also seems to believe that once the quarterback leaves the pocket, he's basically fair game.
You can take that take or leave it as a football fan, but here's what was said:
"Isn't it interesting that it was 6-foot-6 Joe Flacco, and it's 6-foot-6 Cam Newton, and 6-foot-6 Ben Rothlisberger that are always complaining and getting hobbled by hits. It is never 5'11.5" Johnny Manziel, 6-foot Russell Wilson, 6'1.5" Aaron Rodgers or 6'2" Dak Prescott."

"When you slide poorly and you're a quarterback and you leave your territory I'm not asking linebackers to slow down."
Cowherd went on to make a somewhat sloppy comparison between surfers being where the sharks are and children being out of car seats in the car to make his point that when a quarterback gets out of the pocket — the place Cowherd says is specifically designed to protect quarterbacks — he's opening himself up to big hits.
That's a poor way to word it, but in a way Cowherd is right, mind you. Are defenders supposed to slow down just because they see the quarterback is running? Is the quarterback not a football player in the open field at that point?
Still, Cowherd's execution was terrible. He mentioned some of the all-time greats, players like Ray Lewis and Dick Butkus, who played "unhinged". He also mentioned John Lynch, an all-time great safety, who "led with his head for 15 years".
It's easy to romanticize the tough, gruff football players of the past, but that's being completely ignorant to the present day realities of CTE and the physical toll the game has taken on many of those players now that they're older. Sure, we don't want to see defenders slow down or stop playing aggressively — because that's exactly what makes them great — but should player safety be completely disregarded?
That's not the point that Cowherd was intending to make, but he sure didn't place any blame on Alonso for the nasty hit that led to a concussion — and who knows what else in the long term.
"This is what I say about Flacco, and Cam, and Big Ben. These tall, 6'6" clunky guys are lousy sliders. It's unnatural and therefore they slide a second late and they leave their torso — which is enormous — up. So I'm sorry, at the end it's violent but this is football. It's real speed. It's real fast."
It's worth noting that this is the first reported concussion of Flacco's 10-year NFL career.