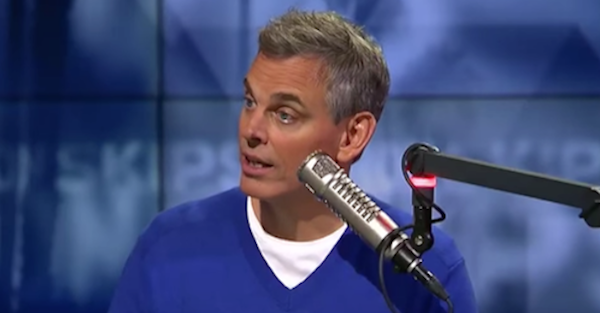 YouTube screenshot
The Herd with Colin Cowherd/YouTube
The San Francisco 49ers are one of the worst teams in the NFL. They're 0-8 and haven't looked remotely good for much of the season.
San Francisco needed to make a move in order to re-capture relevancy on the West coast and at the very least put themselves in position to compete for the rest of the season, and for all intents and purposes the 49ers made that move by trading a second-round pick for quarterback Jimmy Garoppolo — formerly of the New England Patriots.
Garoppolo represents hope for San Francisco, especially considering the flashes of brilliance he displayed at times in replacement of Brady.
The 49ers now have hope to at least pick up some wins to end the 2017-18 season, but according to Colin Cowherd of FS1, the future is even brighter than most might be expecting.
In fact, Cowherd thinks the Garoppolo trade makes San Fran a potential playoff contender as soon as next season.
Here's what he said on his show:
"I believe the 49ers will now be the Rams next year. Not just doubling their win total, they'll be a borderline playoff team," he said.
Cowherd went on to say that he believes Kyle Shanahan is a good head coach and he believes in the direction the organization is going. That's a bit silly to say about a winless team, but Cowherd is looking at the big picture — especially as it relates to quarterbacks.
"San Francisco now is the first team out of the blocks in the search for the next quarterback. There's about three teams in this league — four teams — that need a quarterback and San Francisco said…

'Let's kick the tires here on Garoppolo. Let's see if he's as good as we think he is and if he's not we'll go get a Sam Darnold, Josh Rosen — we'll get somebody out of college. But we think he's good enough. Let's get a jump on all these teams so we're not starting like the Bears with Mitch Trubisky this year. Let's get Garappolo in. Let's learn our system. Let's give him an offseason. He may only start four or five games this year but let's get him in, learn the system and get a jump on all these teams.' "
Garoppolo, who played at Eastern Illinois, was a second-round draft pick by the Patriots in 2014. He's started 17 games in his NFL career in replacement of Tom Brady, and he's thrown for 690 yards and five touchdowns with no interceptions in that stretch.