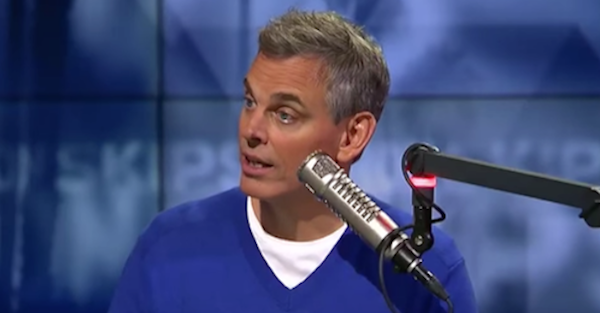 Colin Cowherd/YouTube screenshot
The Herd with Colin Cowherd/YouTube
Dez Bryant has always provided the media with plenty of fodder.
The 27-year-old Cowboys wide receiver is about as outspoken as they come and has, at times, let his emotions get the better of him.
Going AWOL recently and missing a scheduled MRI and team meetings after a knee injury because he wanted to avoid facing the music is the latest example.
Players like Bryant that stay in the headlines are often punching bags for talking heads. Last week it was Skip Bayless, and now it's Colin Cowherd taking the opportunity to call Bryant the NFL's most overrated player.
"But I think [Bryant] has now become the most overrated player in the NFL," Cowherd said on his Fox Sports radio show The Herd. "That's not to say Dez Bryant is a bad player. Good player. He's the most overrated player in the league. He can't separate from corners. He's incredibly needy. He now drops a lot of passes. And he's hurt again…And you know what Andre Rison, T.O., Ocho, Moss, Dez and Odell Beckham have in common? One, they're needy. Two, they don't have Super Bowls."
RELATED: Reports surrounding Dez Bryant show why the Cowboys were hesitant to give him an extension
Bryant definitely embodies the whole NFL wide receiver diva thing. But, overrated? Not really. Love him or hate him, his contributions to the Dallas organization can't be denied. When he's healthy, he's one of the game's most dynamic pass catchers.
Although his battles with injury have been somewhat frequent, in the three seasons he was at his best, 2012-14, few were better. Every year in that stretch, he caught at least 88 balls and posted at least 1,200 yards. Just two seasons ago in 2014 he lead the NFL with 16 touchdown catches.
Guys like Cowherd and Bayless make a living by turning a non-issue into an issue. Guys like Bryant make a living thrilling the daylights out of us.
Contrary to Cowherd's pot-stirring  opinion, when Bryant's healthy he's still more than capable of dazzling fans and spectators.