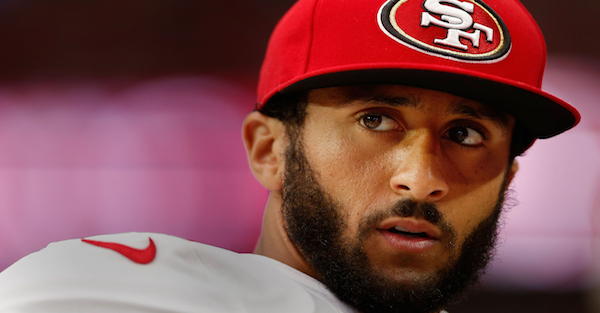 Christian Petersen/Getty Images
GLENDALE, AZ - SEPTEMBER 27: Quarterback Colin Kaepernick #7 of the San Francisco 49ers watches from the sidelines during the NFL game against the Arizona Cardinals at the University of Phoenix Stadium on September 27, 2015 in Glendale, Arizona. The Carindals defeated the 49ers 47-7. (Photo by Christian Petersen/Getty Images)
ESPN The Magazine Senior Writer Mina Kimes didn't hold back when discussing the level of hypocrisy in the NFL when it comes to Colin Kaepernick.
This is a league that has employed ex-felons, drug addicts, and even people who have been accused of rape or domestic abuse. This is a league that has had no problem turning a blind eye to off-field issues as long as the on-field talent finds a way to produce.
Yet, Kaepernick has been stonewalled for not doing anything illegal. Yes, his actions in protesting the National Anthem have been controversial and they've riled people up on both sides of the issue, but ultimately they weren't illegal.
Kaepernick took a stand for a social issue he — and many others — felt strongly about, and for all intents and purposes he has been punished for it.
The cowardice of league owners and general managers hasn't gone unnoticed, but consider Kimes the latest to point it out.
Specifically referencing Baltimore Ravens' Owner Steve Bisciotti, who asked fans to pray for their decision whether or not to sign Kaepernick, Kimes wondered where the hand-wringing was for other controversial NFL players — who actually may have broken the law:
"Well, I have a question for him and the other owners. Where are these statements and these requests for prayers when you are debating whether to sign players accused of domestic violence? Where are the owners getting on their high horses then?" she wondered.

"Why is this level of sanctimony reserved for Colin Kaepernick, who committed no crime. I mean, the level of hypocrisy here is absolutely astounding."
As we near the 2017 season, look for analysts to continue calling out NFL teams. After all, as Kimes suggested, are we all under the impression that Kaepernick is worse than every team's third string quarterback? Sure, he's nowhere near the level of player that he used to be, but he's still an athletic and experienced quarterback who could at the very least serve as a backup.
Especially when considering teams with major holes or uncertainties on the quarterback depth chart, isn't it logical to assume that Kaepernick would have been signed had it not been for his protest?
Ultimately, this is a hot button issue and both sides have valid points. One can see why NFL teams are apprehensive to sign Kaepernick because he will bring some fan backlash with him.
With that said, as Kimes pointed out, where has that apprehensiveness been for players who have been accused of doing illegal, if not downright awful, things?
As she pointed out, the league looks hypocritical.