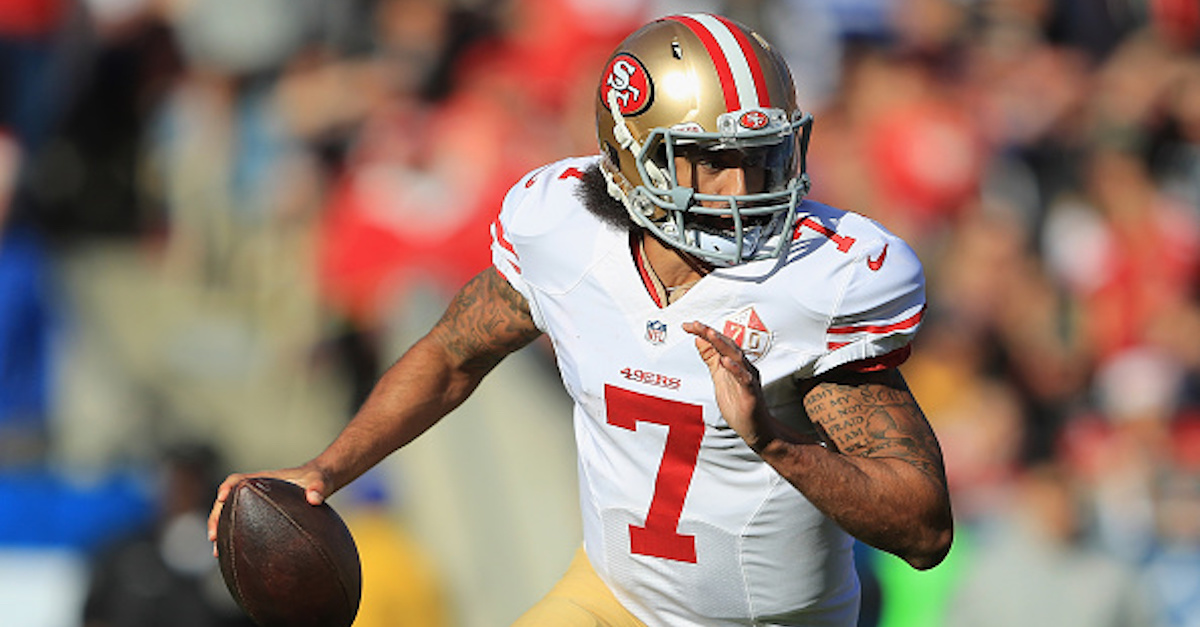 Sean M. Haffey/Getty Images
LOS ANGELES, CA - DECEMBER 24: Colin Kaepernick #7 of the San Francisco 49ers scrambles during the first half against the Los Angeles Rams at Los Angeles Memorial Coliseum on December 24, 2016 in Los Angeles, California. (Photo by Sean M. Haffey/Getty Images)
NFL quarterback Colin Kaepernick is a lightning rod of opinion and he's been known to charge people up, both for political reasons and for football reasons.
The former is likely the reason he still hasn't found an NFL home for the upcoming 2017-18 season, but long-time analyst and NFL writer Peter King thinks it's a bit more than that.
For his part, King thinks the reason NFL teams are avoiding Kaepernick is two-fold.
"But to get it fully on the record, this is my take on Kaepernick: I understand why a team has not signed him. He has holes in his game, and there?s a fear due to his anti-anthem stance that fans will strike back at the team signing him, either by not going to games or some other form of protest."
Though King understands the reasonings, that's not saying he agrees with them.
"But I think it?s short-sighted, not a smart football decision, and downright vindictive that he has not been signed by any of the league?s 32 teams?the same teams willing to give domestic abusers and PED-users additional chances to play. It?s baffling to me that not standing for the anthem is a worse offense than domestic abuse."
If you've been living under a rock, Kaepernick has caused ripples across the league and frankly, across the country, for his boycott of the national anthem before NFL games. Instead of standing, which has always been customary, Kaepernick has chosen to kneel for the anthems as a miniature protest against police brutality and as a stand for social justice for minorities.
Steve Wyche of NFL.com reported Kaepernick's thoughts on the matter back in August of 2016.
"I am not going to stand up to show pride in a flag for a country that oppresses black people and people of color," Kaepernick told NFL Media in an exclusive interview after the game. "To me, this is bigger than football and it would be selfish on my part to look the other way. There are bodies in the street and people getting paid leave and getting away with murder."
Obviously, Kaepernick's protest and statements were polarizing and for the rest of the 2016 season, he was known more as a talking point for football and political pundits alike than as a quarterback. It hasn't helped his cause that his play has dramatically decreased since he led the San Francisco 49ers to the Super Bowl back in 2013. He did throw for 2,241 yards and 16 touchdowns last season for the 49ers, but he was far from the star he once was. In fact, he only played in 12 games.
Still, many NFL analysts would tell you that Kaepernick is at the very least good enough to be a backup quarterback. He's not that far removed from almost winning a Super Bowl and his experience is tough to deny.
NFL teams are notorious for protecting the bottom line, and in a nation that's so politically polarized right now, it does make sense why most may be avoiding Kaepernick in order to avoid the politicized conversations that come along with him.
With that said, King's point is extremely valid. The NFL is willing to forgive many sins for the cause of winning games. Talent tends to get second and third chances, and this is sometimes despite the severity of the issue a player may be accused of. Think domestic abuse or PED use, as King pointed out.
So the question remains: Does Kaepernick simply not have it anymore or has he reached the NFL's breaking point?
Or perhaps, the NFL is simply a vindictive league.