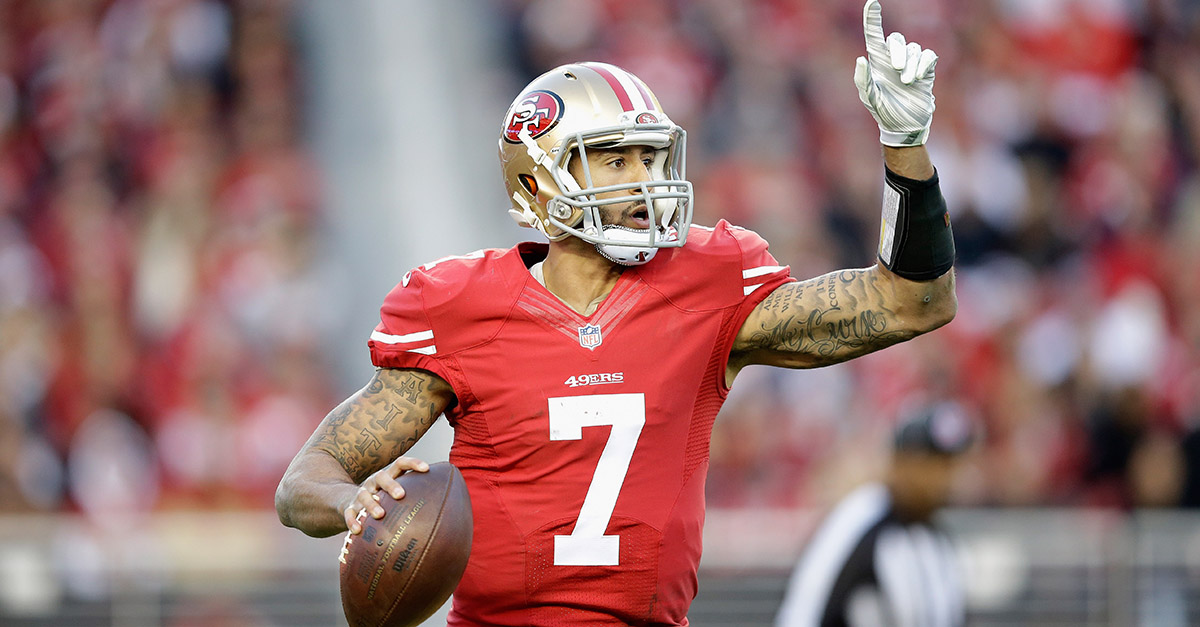 Ezra Shaw/Getty Images
Ezra Shaw/Getty Images
It looks like another quarterback is about to hit the market. The question is, who's desperate enough to take a mediocre signal caller with a ton of baggage?
Colin Kaepernick is expected to opt out of his $14.5 million contract with the San Francisco 49ers, according to a report in ESPN. That's really not much of a surprise. If Kaepernick didn't opt out, the 49ers could have terminated the contract.
Kaepernick, a 2011 second round pick, really hadn't been good for a couple of year. Yes, he started his career on fire, and his combination of strong arm and running ability had San Francisco fans thinking they'd found their franchise quarterback. He led the 49ers to the NFC Championship game in 2012, but the Niners slipped to 8-8 the following year — and that's when his troubles started.
RELATED: Coliln Kaepernick won a significant award with the 49ers
The 49ers fired Jim Harbaugh, the coach who drafted Kaepernick, after the 2014 season. Kaepernick was benched after eight games in 2015 when his quarterback rating ranked 29th in the league. He suffered from injuries, and when he finally regained the starting job this year, the 49ers only went 1-10 in games he played in. His stats weren't bad — 2,241 yards, 16 TD, 4 INT, with another 468 yards at 2 TDS on the ground — but he was still ranked 23rd in the league in QBR, behind Denver's Trevor Siemian and Houston's Brock Osweiler.
Of course, there's also the whole national anthem protest, in which Kaepernick refuses to stand for the national anthem.
Where may he end up? Early reports speculate that the woeful New York Jets are a possibility. The team just hired John Morton as its offensive coordinator, and Morton was the 49ers receivers coach when Kaepernick had his most success (2011-2014). But that seems like a marriage made in hell. The New York media would have field day if Kaepernick continues his protests and it would serve as a huge distraction/story line in the media capital of the country.