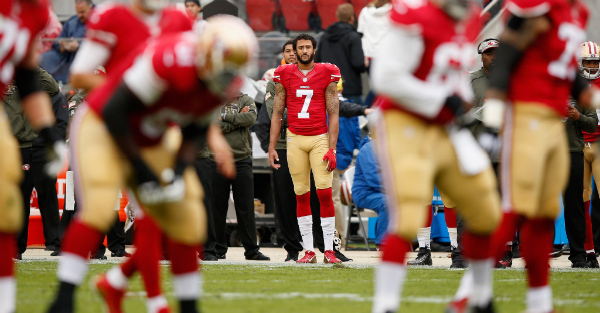 Ezra Shaw/Getty Images
SANTA CLARA, CA - NOVEMBER 08: Colin Kaepernick #7 of the San Francisco 49ers watches Blaine Gabbert #2 play quarterback during their game against the Atlanta Falcons at Levi's Stadium on November 8, 2015 in Santa Clara, California. (Photo by Ezra Shaw/Getty Images)
You knew there would be consequences for Colin Kaepernick's actions against the Green Bay Packers. According to the latest rumblings, that other shoe may be about to drop.
Kaepernick grabbed the national spotlight Friday night when he decided to sit down during the playing of the national anthem just prior to the start of the game. He then exacerbated the media storm that was sure to follow by justifying his actions as a silent protest against the perceived injustice faced by African-Americans and minorities in the country.
?I am not going to stand up to show pride in a flag for a country that oppresses black people and people of color,? Kaepernick told the Media after the game. ?To me, this is bigger than football and it would be selfish on my part to look the other way. There are bodies in the street and people getting paid leave and getting away with murder.?
By all appearances, bringing controversial social issues with him to the football filed may have only served to fast-track his waiver.
Jay Glazer of Fox Sports said he would be "shocked" if Kaepernick lasted the entire season on the 49ers roster, although he specifically says it's not from a political perspective.
"Regardless of politics or not, he has a very, very big uphill battle to make this team," Glazer said on FOX Sunday. "I'd be shocked if he's on the 49ers by the time this season ends. It has nothing to do with political views whatsoever. He lost a ton of weight this offseason, had three surgeries, couldn't work out, lost that double threat, that size-speed ratio. No political views, he just hasn't been effective. He's regressing as a player. I'd be shocked if he's on this roster by the end of this year. He may not be on it in the next two weeks."

On Sunday, things reached a fever pitch when Kaepernick held a press conference with 49ers media. Rather than back away from his statements, he doubled-down.
?You can become a cop in six months,? he said by his locker at the Niners? training facility, ?and you don?t have to have the same amount of training as a cosmetologist. That?s insane. I mean, someone that?s holding a curling iron has more education and more training than people [that] have a gun and are going out on the street to protect us.?
RELATED: Twitter reaction to Colin Kaepernick's actions was swift
Kaepernick's actions Friday weren't exactly self-sabotage.
He's been in steady decline since his breakout season in 2012 when he finished the season with a career-high passer rating of 98.3. Since then, he's dropped off significantly every season, from a 91.6 passer rating in 2013 to 86.4 in 2014, and 78.5 last season. The release could come as more of a next step than a direct reaction to his comments.
But his stance as what some might perceive as a distraction from the team certainly hasn't helped anything.
There are few things that inflame the country more than politics, sports, cops, and race. What Kaepernick has done is create the perfect molotov cocktail using those ingredients. And now it's not only threatening to destroy his image, it's also threatening his career.