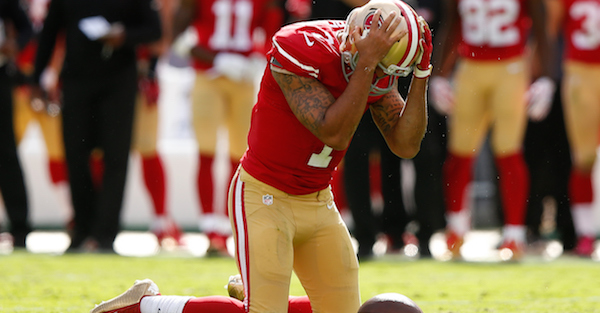 Ezra Shaw/Getty Images
SANTA CLARA, CA - OCTOBER 18: Quarterback Colin Kaepernick #7 of the San Francisco 49ers reacts after being tackled by cornerback Jimmy Smith #22 of the Baltimore Ravens during their NFL game at Levi's Stadium on October 18, 2015 in Santa Clara, California. (Photo by Ezra Shaw/Getty Images)
There had been reports that former San Francisco 49ers quarterback Colin Kaepernick and the Seattle Seahawks were in talks to strike a deal. However, no deal has been made and it would seem that there is only one issue keeping the two parties from coming to an accord.
RELATED: Colin Kaepernick could be close to finally signing with a team
While Kaepernick seems to have accepted his role as a backup QB now, it would also seem that he believes himself to be a rather expensive one. While he did lead a team to the Super Bowl, he was helped a great deal by a fantastic defense and really hasn't been the same since.
[h/t 247Sports]