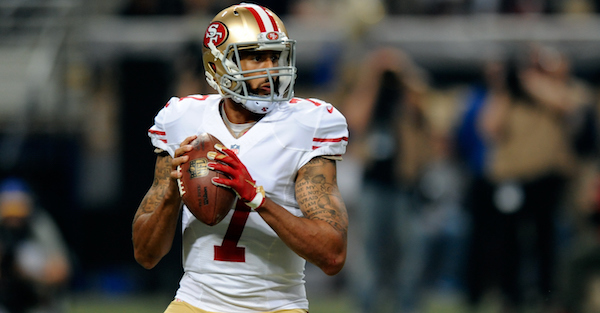 ST. LOUIS, MO - NOVEMBER 1: Colin Kaepernick #7 of the San Francisco 49ers looks to pass against the St. Louis Rams in the first quarter at the Edward Jones Dome on November 1, 2015 in St. Louis, Missouri. (Photo by Michael B. Thomas/Getty Images)
Related: If Kaepernick trade falls through, Broncos reportedly have a backup plan
---
According to a report from former Tampa Bay Buccaneers general manager Mark Dominik, he believes a Colin Kaepernick trade to the Denver Broncos is done pending the San Francisco 49ers drafting a quarterback.
Holding the No. 7 overall selection, the 49ers are on the outside looking in for the top two quarterbacks, Jared Goff and Carson Wentz, likely landing with the Los Angeles Rams, then Cleveland Browns.
Guys like Paxton Lynch, Connor Cook, Cardale Jones, Christian Hackenberg and Dak Prescott are expected to be there in the second round and on, opening the door for a work-in-progress quarterback landing in San Francisco.
If Blaine Gabbert is expected to be the starter in San Francisco, could one of those guys fill the void after moving Kaepernick?
A trade for the Broncos isn't just ideal at this point, it's borderline necessary with Mark Sanchez holding the starting job.