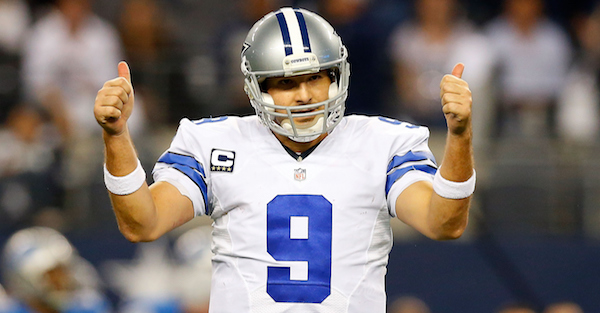 ARLINGTON, TX - JANUARY 04: Tony Romo #9 of the Dallas Cowboys gestures against the Detroit Lions during the second half of their NFC Wild Card Playoff game at AT&T Stadium on January 4, 2015 in Arlington, Texas. (Photo by Tom Pennington/Getty Images)
Add Baylor head coach Art Briles to the list of coaches and analysts who have talked up the Dallas Cowboys reserve quarterback spot.
During his time at the Senior Bowl in Alabama, Briles spoke with SportsDay and made it clear who he wants to see behind Tony Romo next season — Robert Griffin III.
"You could have a dream. That would probably be making it come true," Briles said from Senior Bowl practices. "That would be a great place for him. It's a great organization; being back in Texas and with the Cowboys and having a chance to get in there under Romo for three years. Not that they need to sell tickets, but it wouldn't hurt ticket sales."
If the Cowboys were going to go with one player over another, at this point it's easy to see Dallas snagging RGIII over the oft-troubled Johnny Manziel.