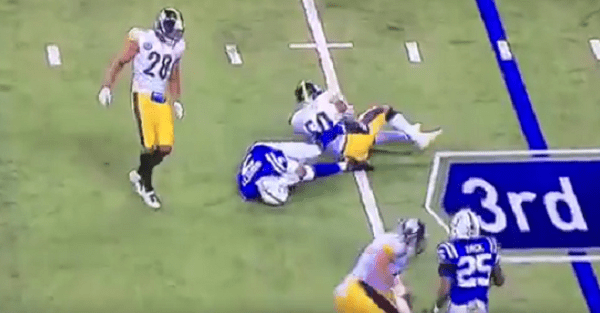 @ChrisNowinski1/Twitter
@ChrisNowinski1/Twitter
On Sunday, for about three quarters, it seemed as though the Indianapolis Colts were going to walk away with a big-time upset for their fourth win of the season.
Instead, the Pittsburgh Steelers put up 11 points in the fourth quarter while holding Indianapolis scoreless to shock the Colts.
But there might be more trouble looming for Indianapolis. During the game, quarterback Jacoby Brissett was backed up to his end zone before taking off to run, trying to give his team a little breathing room.
While going to the ground, Brissett took a hit to the back of the head and immediately grabbed his helmet in pain before needing to be helped up. Despite having what appeared to be symptoms of a concussion, Brissett returned to the game.
In fact, it wasn't until after the game that Brissett was put into concussion protocol.
Now, Brissett has been showing flashes of his talent all season long while Andrew Luck continues to rehabilitate his shoulder. And Brissett's play has led many to create a narrative that Luck and the Colts might be on a path toward an eventual split.
However, if Brissett is going to stick around in Indy for the foreseeable future, the Colts are going to have to make sure he's healthy, too — if not for the sake of their franchise then for the sake of Brissett.