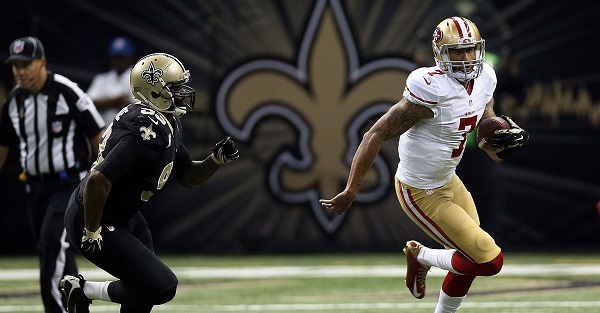 Chris Graythen/Getty Images)
NEW ORLEANS, LA - NOVEMBER 09: Colin Kaepernick #7 of the San Francisco 49ers is pursued by Junior Galette #93 of the New Orleans Saints during the second quarter of a game at the Mercedes-Benz Superdome on November 9, 2014 in New Orleans, Louisiana. (Photo by Chris Graythen/Getty Images)
Junior Galette isn't a stranger to off-field issues. Just months after he signed a massive deal with the New Orleans Saints, the talented pass rusher was arrested for domestic violence and, not long after, a video came to light with even more damning images about a previous incident with Galette and violence against women.
This week, Galette has run afoul of the law again, as he was reportedly charged with disorderly conduct and failure to comply as a result of an incident in Biloxi, Mississippi on Friday. Mike Triplett of ESPN brings details:
According to the police report: an officer witnessed Galette assaulting a man. Officers then yelled at him to stop but he took off running and a taser was used to subdue him. Galette was taken into custody and at that time was cooperative. An officer reached by ESPN called it a very minor incident and said both charges are misdemeanors. The officer also said Galette likely wouldn't have been charged had he not run.
After word broke, the Washington Redskins, who currently employ Galette, released the following statement:
"We are aware of the incident. We are gathering information and will refrain from making any further comment."
The 29-year-old defensive player hasn't appeared in a Washington uniform yet as a result of back-to-back injuries and, quite obviously, this is a terrible look as he pursues a future in the NFL. It is important to note that Galette is innocent until proven guilty but the track record is such that he won't necessarily receive the benefit of the doubt in the world of public perception. Stay tuned.